Best Practices in Customer Reporting to Demonstrate Value and Impact for EAP Services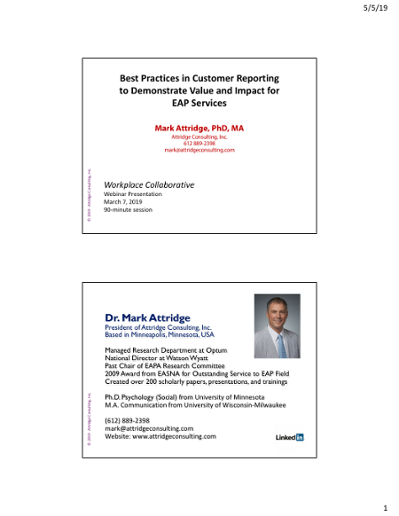 Name:
Attridge 2019MAR07 WorkplaceCo ...
Size:
5.400Mb
Format:
PDF
Description:
Slides (2 per page in color). ...
Abstract
A 90-minute invited presentation on applied best practices for external providers of EAP services. Focus on three areas: Classic conceptual model for customer reporting on EAP value; What should be In customer reporting in current business marketplace; and New trends for EAP in behavioral health risk management.
Table of Contents
Part 1 – Customer Reporting on EAP Value: Attridge's 10 Classic Questions from article in 2007; Part 2 – Current EAP Market Opportunities: What Should Be In Customer Reporting 2018 (findings from Evolution of EAP industry survey); Part 3 – Go Big on Impact - Behavioral Health Risk Management Model for EAP Expanded Role Organizational Health (including new survey data from 14 members of Workplace Collaborative vs. Norms for External EAP vendors).
Description
Invited webinar presentation for members of the EAP Workplace Collaborative in US.
Citation
Attridge, M. (2019, March). Best practices in customer reporting to demonstrate value and impact for EAP services. Presented at the EAP Workplace Collaborative members-only Spring meeting. Webinar.
Sponsors
EAP Workplace Collaborative
Rights/Terms
Copyright to Mark Attridge of Attridge Consulting, Inc.