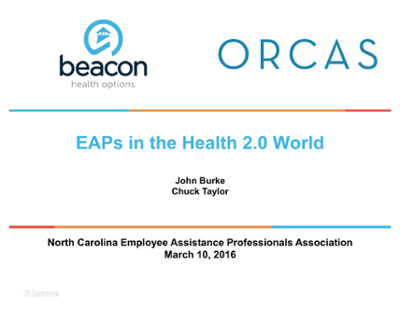 Name:
EAPs-in-the-Health-2.0-World.c ...
Size:
260.5Kb
Format:
PDF
Description:
Presentation Slides
Description
These EAPs in the Health 2.0 World presentation slides by John Burke and Chuck Taylor describe and address the transformation occurring in the workplace mental health field in the face of technological developments. Reviewing advancements from the previous decade, Burke and Taylor delineate a variety of technological domains as they relate to mental health treatment. The slides culminate in a process proposal for organizations to develop a "Technology Strategy," emphasizing the importance of thinking critically about claims of success while embracing the cost-effective and accessible nature of digital mental health.
These slides were presented for the North Carolina Employee Assistance Professionals Association on March 10, 2016.
Sponsors
North Carolina Employee Assistance Professionals Association