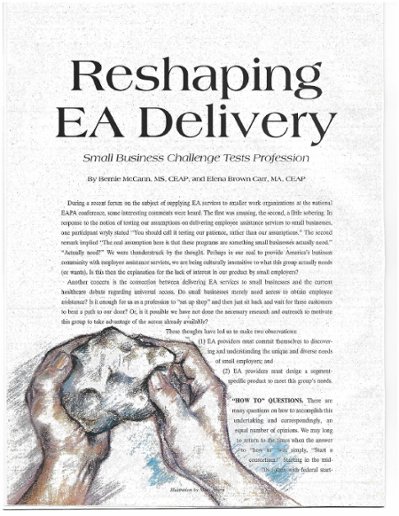 Name:
McCann - Reshaping EA Delivery ...
Size:
6.121Mb
Format:
PDF
Description:
Published Article
Abstract
Concerns regarding the delivery of EA services to smaller work organizations and their access to behavioral healthcare have arisen. Noting the historical lack of EAP uptake among this population, questions arise including: How might EA providers better understand and then serve these employers? How do their needs differ from larger and even mid-sized organizations. The authors share their experience in development and implementation of a local EAP and drug-free consortium aimed at this market.
Citation
McCann, B. A. & Carr, E. B. (1994). Reshaping EA delivery: small business challenge tests profession. Employee Assistance: Solutions to the Problems, 6(8):12-18.
The following license files are associated with this item:
Except where otherwise noted, this item's license is described as https://creativecommons.org/licenses/by-nc-nd/4.0/