Workplace Screening & Brief Intervention: What Employers Can and Should Do About Excessive Alcohol Use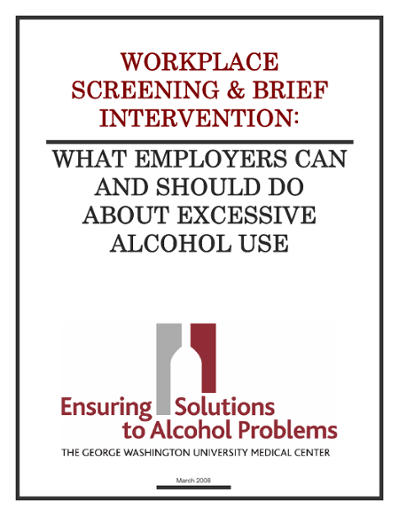 Name:
Workplace SBI Report Final.pdf
Size:
194.7Kb
Format:
PDF
Description:
Report from George Washington ...
Abstract
Excessive alcohol use by employees and their family members has a substantial impact on the cost of doing business in the United States. Problems associated with alcohol use are not just confined to drinking during work hours. Excessive drinking boosts absenteeism, diminishes productivity, and contributes to skyrocketing health care costs.
Table of Contents
TABLE OF CONTENTS Summary 1 Introduction 2 Alcohol Problems Defined 2 The Workplace Impact of Alcohol Problems 3 Workplace Prevalence of Alcohol Dependence and Alcohol Abuse 4 Costs to Employers 6 About Screening and Brief Intervention 7 SBI: Proven Effective 9 SBI in the Workplace 10 Other Successful Health Initiatives 10 Two Approaches to SBI at Work 11 SBI in Employee Assistance Programs 13 SBI in Wellness Programs 13 A Successful SBI Initiative in Houston 14 Healthy Return on Investment 14 Conclusion 15 Resources 15 Notes & Citations 16
Sponsors
Publication was made possible through a grant from The Pew Charitable Trusts.
The following license files are associated with this item:
Except where otherwise noted, this item's license is described as https://creativecommons.org/licenses/by-nc-nd/4.0/