White Paper on Excepted Benefits from EAPA to the Department of Labor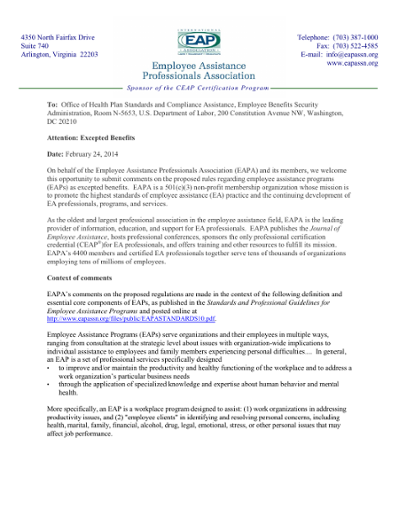 Name:
EAPACommentsBenefts.pdf
Size:
195.5Kb
Format:
PDF
Description:
Comments on proposed rules ...
Other Titles
Response to Office of Health Plan Standards and Compliance Assistance
Abstract
On behalf of the Employee Assistance Professionals Association (EAPA) and its members, we welcome this opportunity to submit comments on the proposed rules regarding employee assistance programs (EAPs) as excepted benefits. EAPA is a 501(c)(3) non-profit membership organization whose mission is to promote the highest standards of employee assistance (EA) practice and the continuing development of EA professionals, programs, and services.
Description
Comments on the proposed rules regarding EAPs as excepted benefits.
The following license files are associated with this item:
Except where otherwise noted, this item's license is described as https://creativecommons.org/licenses/by-nc-nd/4.0/