American Academy of Social Work and Social Welfare 2017 fellows induction program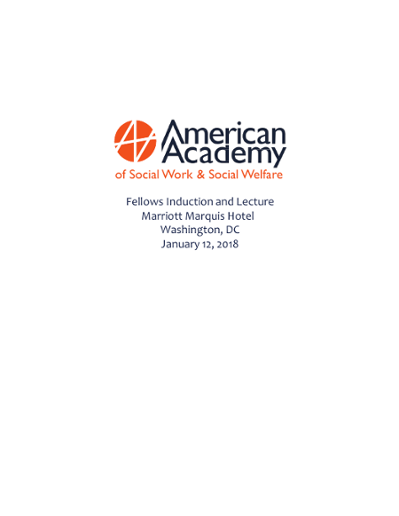 Name:
AASWSW Induction Program 2017.pdf
Size:
2.424Mb
Format:
PDF
Description:
AASWSW Induction Program 2018 ...
Other Titles
American Academy of Social Work and Social Welfare Fellows Induction and Lecture 2018
Table of Contents
The Mission and Purpose of the American Academy of Social Work and Social Welfare, Current AASWSW Board, Welcome, Lecture, Recognizing Service to the Academy, Induction of 2017 Fellows, Closing Remarks and Reception, Biographies of Speaker and 2017 Fellows, Full List of AASWSW Fellows, Nominations & Elections Procedures, AASWSW Strategic Plan Document, and AASWSW Sponsors
Description
Program for the American Academy of Social Work and Social Welfare Fellows Induction and Lecture Event. This event was held at the Marriott Marquis Hotel in Washington, D.C. on January 12, 2018 to induct 2017 fellows.
Dr. Mark Courtney, a professor in the School of Social Service Administration at the University of Chicago, presented a lecture titled "Whither American Social Work in its Second Century?".
The following outgoing AASWSW Board Members were recognized: Founding President Richard P. Barth, PhD, John Brekke, PhD, Larry Davis, PhD, and Michael Sherraden, PhD. The following incoming AASWSW Board Members were recognized: Nancy Hooyman, PhD, Matthew Howard, PhD, and Luis Zayas, PhD.
The following 2017 Fellows were inducted into the Academy: Ron Avi Astor, PhD, Linda M. Chatters, PhD, Ram A. Cnaan, PhD, Jorge Delva, PhD, Marilyn Flynn, PhD, Karen Fredriksen Goldsen, PhD, Grover C. Gilmore, PhD, Deborah Gorman-Smith, PhD, Sean Joe, PhD, Melissa Jonson-Reid, PhD, Craig Winston LeCroy, PhD, Michalle Mor Barak, PhD, Robert Joseph Taylor, PhD, Mark F. Testa, PhD, Richard Tolman, PhD, and Edwina Uehara, PhD.
There is a brief biography (including color photographs) for the guest lecturer and each of the new fellows.
Collections
Related items
Showing items related by title, author, creator and subject.
1968: The Turning Point Year When U.S. Social Work Failed to Turn

Reisch, Michael, 1948- (

2018-03

)

The year 1968 was a potential turning point in the history of U.S. social work. After a generation of inward looking conservatism, significant numbers of American social workers revived the radical tradition of the profession that the purges of the post-war McCarthy period had repressed. New social movements, particularly the civil rights movement, the anti-war movement, and second wave feminism, and the efforts of activists outside of social work, from Saul Alinsky and Cesar Chavez to the National Welfare Rights Organization, inspired new approaches to advocacy, research, practice, and education. Inside and outside professional organizations and social service agencies, social workers began to advocate for progressive policies, the use of more expansive and more democratic practice frameworks, and the inclusion of content on race, gender, class, and sexuality in social work education. For a brief period, it appeared that a major transformation of the profession was possible, even inevitable. Although the events of this critical year produced some important changes in social work practice and education, they did not change its fundamental orientation. Ironically, both the ultimate failure of the era's radical activism and the introduction of identity-based content into the profession's vocabulary and mission made U.S. social work more vulnerable to conservative attacks during the past half century. The developments that resulted from the "year of the barricades" also made it more difficult for the profession to articulate a unified vision for a rapidly changing environment and to translate that vision into new models of practice, research, and education.