American Academy of Social Work and Social Welfare 2017 fellows induction program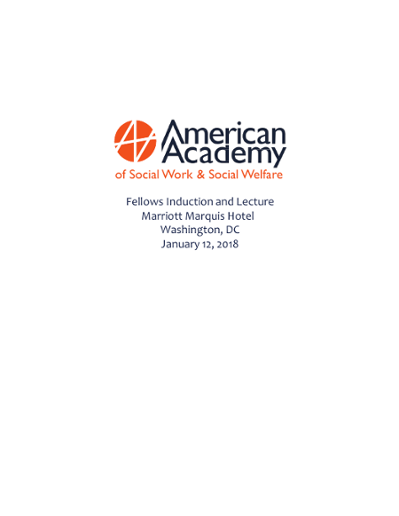 Name:
AASWSW Induction Program 2017.pdf
Size:
2.424Mb
Format:
PDF
Description:
AASWSW Induction Program 2018 ...
Other Titles
American Academy of Social Work and Social Welfare Fellows Induction and Lecture 2018
Table of Contents
The Mission and Purpose of the American Academy of Social Work and Social Welfare, Current AASWSW Board, Welcome, Lecture, Recognizing Service to the Academy, Induction of 2017 Fellows, Closing Remarks and Reception, Biographies of Speaker and 2017 Fellows, Full List of AASWSW Fellows, Nominations & Elections Procedures, AASWSW Strategic Plan Document, and AASWSW Sponsors
Description
Program for the American Academy of Social Work and Social Welfare Fellows Induction and Lecture Event. This event was held at the Marriott Marquis Hotel in Washington, D.C. on January 12, 2018 to induct 2017 fellows.
Dr. Mark Courtney, a professor in the School of Social Service Administration at the University of Chicago, presented a lecture titled "Whither American Social Work in its Second Century?".
The following outgoing AASWSW Board Members were recognized: Founding President Richard P. Barth, PhD, John Brekke, PhD, Larry Davis, PhD, and Michael Sherraden, PhD. The following incoming AASWSW Board Members were recognized: Nancy Hooyman, PhD, Matthew Howard, PhD, and Luis Zayas, PhD.
The following 2017 Fellows were inducted into the Academy: Ron Avi Astor, PhD, Linda M. Chatters, PhD, Ram A. Cnaan, PhD, Jorge Delva, PhD, Marilyn Flynn, PhD, Karen Fredriksen Goldsen, PhD, Grover C. Gilmore, PhD, Deborah Gorman-Smith, PhD, Sean Joe, PhD, Melissa Jonson-Reid, PhD, Craig Winston LeCroy, PhD, Michalle Mor Barak, PhD, Robert Joseph Taylor, PhD, Mark F. Testa, PhD, Richard Tolman, PhD, and Edwina Uehara, PhD.
There is a brief biography (including color photographs) for the guest lecturer and each of the new fellows.
Collections
Related items
Showing items related by title, author, creator and subject.
Occupational social work: From social control to social assistance?

Csiernik, Rick (

Canadian Association of Social Workers

,

1996-09-12

)

The worksite is an important setting which impacts on the social, mental and physical well-being of the worker. A healthy workplace environment can induce many positive changes such as, a healthier workforce, increased morale, reduced absenteeism and, in turn, increased productivity. Conversely, an unhealthy and hazardous workplace can increase mortality and morbidity, lower the worker's quality of life, escalate health care costs.

Social Stability as a Consistent Measure of Social Context in a Low-Income Social Network

Moen, Marik; Johantgen, Mary E.; 0000-0001-8369-819X (

2018

)

Background: Increasingly, studies of factors influencing health consider the importance of social contexts in which people are living. The selection of indicators to represent this social context in health research can seem arbitrary. This study examines the potential of social stability as a useful construct to represent social context in these studies. Purpose: This study applied a previous definition of social stability (SS) in a new population and examined its relationship to syndemic risk behaviors (sexual, substance use, and violence). Aim 1 examined whether SS (as measured by German, 2009) can identify distinct subgroups while describing SS prevalence and patterns. Aim 2 assessed whether measures of perceived or historical stability are related to SS status, and whether they influence latent SS classes. Aim 3 explored how SS level and subgroup are associated with risk behaviors, while examining the co-occurrence of these syndemic behaviors. Methods: A secondary analysis of data of heterosexuals at high-risk of HIV infection from the Baltimore site of National HIV Behavioral Surveillance Study was conducted. Descriptive and latent class analyses (LCA) were applied to characterize the prevalence and patterns of SS and risk behaviors and to identify SS subgroups. Logistic and latent class regression were applied to model the relationships of SS to risk behaviors and demographic covariates. Results: SS was more prevalent than expected, and co-occurrence of SS indicators was common in this population. LCA showed evidence for 3 sub-classes: high stability, residential instability, and income, employment instability. Perception or history of stability did not contribute to identifying latent classes. Education was an influential covariate in LCA. Co-occurrence and significant associations among risk behaviors are also common in the population. Ordinal and latent measurements of SS reliably predicted individual and combinations of sexual-substance use- and-violence risks. Relationships vary with the method of SS specification with stronger magnitude of odds of risk associated with the latent approach. Conclusion: Social stability well represented certain aspects of the social context in a new study population and demonstrated an influential relationship with syndemic risks. Consistent measures of SS should be considered for application in research including social conditions and health.