American Academy of Social Work and Social Welfare 2014 fellows induction program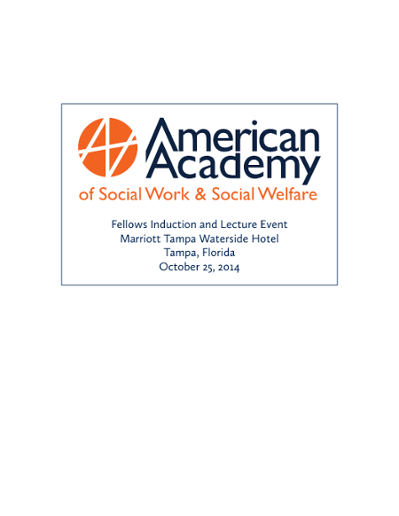 Name:
AASWSW Induction Ceremony Program ...
Size:
349.8Kb
Format:
PDF
Description:
American Academy of Social Work ...
Other Titles
American Academy of Social Work and Social Welfare Fellows Induction and Lecture Event 2014
Table of Contents
Welcome, Purposes and Goals of the Academy, Lecture, Induction of 2014 Fellows, Closing Remarks and Reception, Biographies of Speaker and Fellows
Description
Program for the American Academy of Social Work and Social Welfare Fellows Induction and Lecture Event. This event was held at the Marriott Tampa Waterside Hotel in Tampa, FL on October 25, 2014.
Dr. Claudia Coulton, a professor at Case Western Reserve University and AASWSW Fellow, presented a lecture titled "Stepping Up to Harness Big Data for Social Good".
The following 2014 Fellows were inducted into the Academy: Wendy Auslander, PhD, Jill Duerr Berrick, PhD, Diane DePanfilis, PhD, Jan Steven Greenberg, PhD, Shenyang Guo, PhD, Amy Horowitz, PhD, Susan L. Hughes, PhD, Gerald P. Mallon, DSW, Mark I. Singer, PhD, John Tropman, PhD, Karina L. Walters, PhD, Fred Wulczyn, PhD.
There is a brief biography for the guest lecturer (including photograph), and each of the new fellows.
Collections
The following license files are associated with this item:
Except where otherwise noted, this item's license is described as https://creativecommons.org/licenses/by-nc-nd/4.0/
Related items
Showing items related by title, author, creator and subject.
The American Academy of Social Work and Social Welfare: History and Grand Challenges

Barth, Richard P., 1952-; Gilmore, Grover C.; Flynn, Marilyn S.; Fraser, Mark W., 1946-; Brekke, John S. (

SAGE Publications. 2455 Teller Road, Thousand Oaks, CA 91320. Tel: 800-818-7243; Tel: 805-499-9774; Fax: 800-583-2665; e-mail: journals@sagepub.com; Web site: http://sagepub.com

,

2014

)

Conceptualized by social work deans and actualized with the support of major social work organizations, the American Academy of Social Work and Social Welfare was established in 2009. This article describes the historical context and creation of the Academy, whose objectives include recognizing outstanding social work scholars and practitioners; informing social policy by serving as a signal scientific source of information for the social work profession and agencies seeking information; promoting the examination of social policy and the application of research to the design and development of more effective public policies, social welfare programs, and social work practice; and celebrating excellence in research, education, and practice. The Academy's 72 members have been selected using the methods of the National Academy of Science. The Academy's first substantive effort is the Grand Challenges of Social Work Initiative, designed to help transform social work science, education, and practice around visionary and achievable challenges.