The Results of a Traditional Alcohol Intervention Approach with Alcohol Abusers in a Heavy Industry Setting in Russia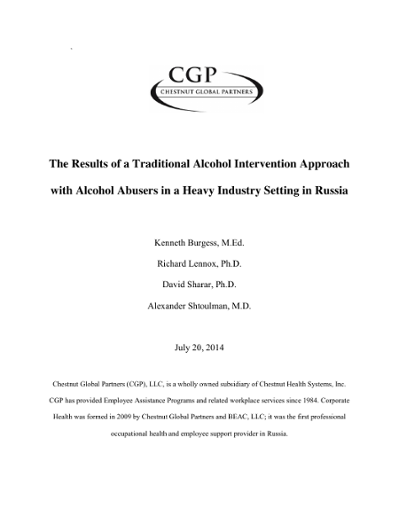 Name:
PrePublicationVersionBurgess20 ...
Size:
386.2Kb
Format:
PDF
Description:
pre-publication version of Peer ...
Publisher
Taylor & Francis
Other Titles
A Substance Abuse Intervention Program at a Large Russian Manufacturing Worksite
Abstract
Motivating alcohol abusers to enter treatment, comply with recommendations, and make significant changes in their behavior is no easy task. In the West, professionals learned the importance of motivation early on, and they learned it first from those recovering in Alcoholics Anonymous. Early occupational alcoholism programs used job performance and disciplinary steps to motivate problem drinkers to take action. The threat of job loss proved significant in breaking through denial and in motivating clients to begin a recovery process. This approach was incorporated into the Employee Assistance Program (EAP) and EAP professionals have used job performance and disciplinary steps to motivate those with many types of personal issues. In the Russian Federation, no such history exists. This workplace-based alcohol intervention program is a first for Russia, and it uses the work performance approach successfully deployed in the West for many decades.
Description
Pre-publication version of an article published in the Workplace of Behavioral Health, 30:1-2, 138-153. http://dx.doi.org/10.1080/15555240.2015.1000159
Citation
Burgess K. M., Lennox, R., Sharar, D. A. & Shtoulman, A. (2015). A substance abuse intervention program at a large russian manufacturing worksite. Journal of Workplace Behavioral Health, 30(1-2), 138-153.
Sponsors
Chestnut Global Partners
The following license files are associated with this item:
Except where otherwise noted, this item's license is described as https://creativecommons.org/licenses/by-nc-nd/4.0/