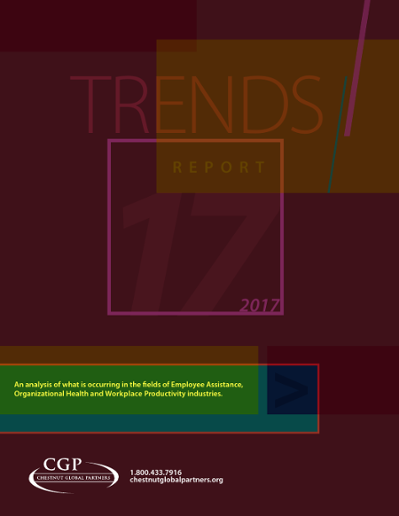 Name:
CGP-1342_TrendsReport-2017_201 ...
Size:
250.8Kb
Format:
PDF
Description:
Annual Trend Report
Publisher
Chestnut Global Partners
Other Titles
An Analysis of what is occurring in the fields of Employee Assistance, Organizational Health and Workplace Productivity industries
Ghestnut Global Partners (CGP) Trends Report 2017
Abstract
By many accounts, 2016 was a year of contradictions and extremes. Our politics were certainly contentious and polarizing, as evidenced by Britain's controversial decision to exit the European Union and the election of a new President in the United States prone to late night TwitterTM feuds. The ongoing civil war in Syria continued to create a humanitarian crisis which, in some countries, increased tensions and discrimination toward immigrants. Added to these tensions were the rise of terrorism in places such as Berlin and Nice, and the violent attacks on Dallas police officers and Orlando night club goers – all of which contributed to rising anxiety levels and safety concerns. By contrast, there were many good news reports that lifted our spirits. West Africa finally became Ebola free, causing the celebration of thousands of families and humanitarian aid workers. Here in the United States the teen birth rate continued its decline of more than 50% since 2007, while the generosity of American employees resulted in a record $373 Billion donated to charities. The unemployment rate of 4.6% was the lowest in almost 10 years, and let us not forget the 'feel good' sports stories, including the Chicago Cubs and Cleveland Cavaliers winning world championships for the first time in over a half century. In the world of health care, concerns about the rising costs contrasted with the satisfaction that many felt in seeing the number of uninsured reach record lows. And finally, the death of recording artist Prince due to drug overdose helped shed light on the epidemic of opioid addiction and a growing need for greater integration of physical and mental health. In this year's CGP Trends Report, the stories featured are also studies in extremes and contradictions. Perhaps the central theme this year is a variation of last year's theme: the more things change,the more unpredictable they become...and the more resilient we'll have to become in navigating life's unexpected turns. Sincerely, Todd Donalson Todd R. Donalson Director of Training and Consultation
Table of Contents
Editor's Corner...1; Requests for EAP Support Due to Anxiety are on the Increase...2; EAP Survey Reveals Market Segments and Top Industry Needs...3; The Increasing Role of Procurement in EAP Purchasing Decisions...5; Standardizing EAP ROI Analyses...6
Description
Annual Trend Report by Regional Employee Assistance Vendor - Chestnut Global Partners.
The following license files are associated with this item:
Except where otherwise noted, this item's license is described as https://creativecommons.org/licenses/by-nc-nd/4.0/