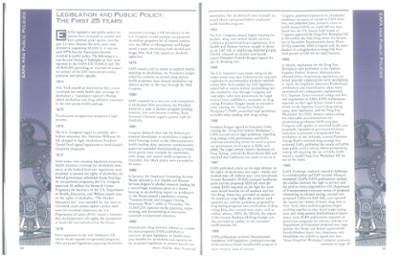 Name:
legislation and public policy.pdf
Size:
2.211Mb
Format:
PDF
Description:
EAPA 25 years
Publisher
EAPA Commemorative Journal
Abstract
EAPA's Legislative and public policy initiatives have increased in number and have achieved great success over the past 25 years. Because the early years were devoted to organizing ALMACA, it was not until 1974 that the Association became involved in public policy. The following is a year-by-year listing of the highlights as they were reported in the EAPA Exchange and The ALMACAN, providing an overview of a quarter-century of the EAP Association's policy positions and policy agenda.
Description
Article in the 25 Anniversary Commemorative Journal (EAPA).
The following license files are associated with this item:
Except where otherwise noted, this item's license is described as https://creativecommons.org/licenses/by-nc-nd/4.0/