Preventing Worker Prescription Drug Misuse: Time for a New Integrated Approach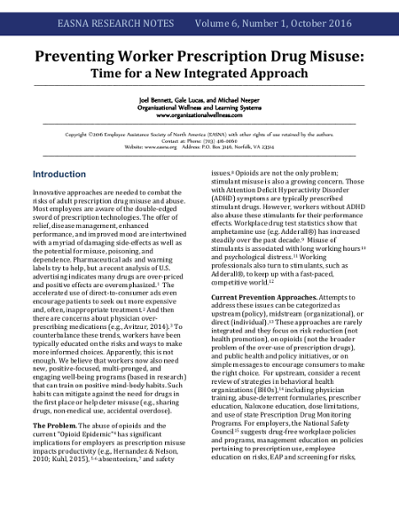 Name:
EASNA-Research-Notes-Vol-6-No- ...
Size:
551.6Kb
Format:
PDF
Description:
Research Article
Publisher
Employee Assistance Society of North America (EASNA)
Peer Reviewed
KTR Committee
Abstract
Innovative approaches are needed to combat the risks of adult prescription drug misuse and abuse. Most employees are aware of the double-edged sword of prescription technologies. The offer of relief, disease management, enhanced performance, and improved mood are intertwined with a myriad of damaging side-effects as well as the potential for misuse, poisoning, and dependence. Pharmaceutical ads and warning labels try to help, but a recent analysis of U.S. advertising indicates many drugs are over-priced and positive effects are overemphasized. The accelerated use of direct-to-consumer ads even encourage patients to seek out more expensive and, often, inappropriate treatment. And then there are concerns about physician over- prescribing medications (e.g., Avitzur, 2014). To counterbalance these trends, workers have been typically educated on the risks and ways to make more informed choices. Apparently, this is not enough. We believe that workers now also need new, positive-focused, multi-pronged, and engaging well-being programs (based in research) that can train on positive mind-body habits. Such habits can mitigate against the need for drugs in the first place or help deter misuse (e.g., sharing drugs, non-medical use, accidental overdose).
Description
Conceptual Research Paper
Series/Report No.
EASNA Resaearch Notes;Volume 6, Number 1
The following license files are associated with this item:
Except where otherwise noted, this item's license is described as https://creativecommons.org/licenses/by-nc-nd/4.0/