The EAP Connection: Military Sexual Trauma & Campus Sexual Assault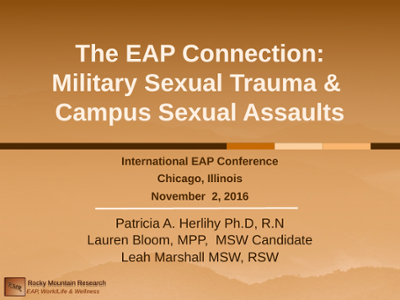 Name:
1102-2c-21 MST-Sexual Assault ...
Size:
81.61Mb
Format:
Microsoft PowerPoint 2007
Description:
Slides for Presentation
Type
Conference/Congress
Poster/Presentation
Other Titles
The EAP Connection: Military Sexual Trauma and Campus Sexual Assault
Description
Slides for presentation at EAPA International Conference, Chicago, 2016
The following license files are associated with this item:
Except where otherwise noted, this item's license is described as https://creativecommons.org/licenses/by-nc-nd/4.0/
Related items
Showing items related by title, author, creator and subject.
Child sexual abuse and the subsequent adolescent sexual, family planning, and fertility patterns of low-income women

Castle-Young, Brenda G.; Crymes, Joseph T. (

1992

)

This study compares the adolescent sexual behaviors, fertility patterns and family planning behaviors of low socioeconomic, single parent women who reported a history of child sexual abuse (N = 38) with those who did not (N = 437). All questions on sexual behaviors, family planning behaviors, and fertility patterns were taken verbatim from the National Survey of Family Growth Cycle 3, (1981) from the National Center on Health Statistics. The data for this study was gathered in a survey conducted from September 1984 to June 1985. This secondary analysis of 475 cases began with a simple bivariate analysis of CSA related to each of the hypothesized outcomes. Subsequently, for each hypothesized outcome a regression analysis was conducted which included child sexual abuse (CSA) and the control variables race, age at time of interview, years of school achieved, and parenting support. The findings revealed that women who reported CSA had their first intercourse at an earlier age, had more sexual partners, had less committed relationships, had a greater number of live births, and were less likely to have had an abortion than women who reported CSA. However, there was inadequate support for the hypotheses which predicted differences between the two groups on age at first live birth, contraception patterns, opinion of responsibility for contraception, or percent of unwanted live births. Additionally, several of the situational factors had impact on some of these behavioral outcomes. Increased frequency of CSA increased the number of sexual partners, decreased the use of contraception, and increased the percent of unwanted live births. As the severity of CSA increased, the age at first intercourse was younger. The earlier age that CSA began and the greater the number of perpetrators, the greater the number of sexual partners that were reported. The greater the number of perpetrators, the less likely a CSA victim was to use contraceptives between first intercourse and first pregnancy. If the perpetrator was a family member, opinion of self-responsibility for contraception decreased. These consequences of CSA likely lead to decreased life chances and serious health problems.

Prenatal Allergen Exposure Perturbs Sexual Differentiation and Programs Lifelong Changes in Adult Social and Sexual Behavior

Lenz, K.M.; Pickett, L.A.; Wright, C.L. (

Nature Publishing Group

,

2019

)

Sexual differentiation is the early life process by which the brain is prepared for male or female typical behaviors, and is directed by sex chromosomes, hormones and early life experiences. We have recently found that innate immune cells residing in the brain, including microglia and mast cells, are more numerous in the male than female rat brain. Neuroimmune cells are also key participants in the sexual differentiation process, specifically organizing the synaptic development of the preoptic area and leading to male-typical sexual behavior in adulthood. Mast cells are known for their roles in allergic responses, thus in this study we sought to determine if exposure to an allergic response of the pregnant female in utero would alter the sexual differentiation of the preoptic area of offspring and resulting sociosexual behavior in later life. Pregnant rats were sensitized to ovalbumin (OVA), bred, and challenged intranasally with OVA on gestational day 15, which produced robust allergic inflammation, as measured by elevated immunoglobulin E. Offspring of these challenged mother rats were assessed relative to control rats in the early neonatal period for mast cell and microglia activation within their brains, downstream dendritic spine patterning on POA neurons, or grown to adulthood to assess behavior and dendritic spines. In utero exposure to allergic inflammation increased mast cell and microglia activation in the neonatal brain, and led to masculinization of dendritic spine density in the female POA. In adulthood, OVA-exposed females showed an increase in male-typical mounting behavior relative to control females. In contrast, OVA-exposed males showed evidence of dysmasculinization, including reduced microglia activation, reduced neonatal dendritic spine density, decreased male-typical copulatory behavior, and decreased olfactory preference for female-typical cues. Together these studies show that early life allergic events may contribute to natural variations in both male and female sexual behavior, potentially via underlying effects on brain-resident mast cells. © 2019, The Author(s).

Epidemiology of sexually transmitted infections: trends among patients screened for sexually transmitted infections in rwandan health facilities 2014-2020.

Makuza, Jean Damascene; Soe, Phyumar; Jeong, Dahn; Nisingizwe, Marie Paul; Dushimiyimana, Donatha; Umutesi, Justine; Nshimiyimana, Ladislas; Maliza, Clarisse; Serumondo, Janvier; Remera, Eric; et al. (

Springer Nature

,

2022-08-20

)

Background. Sexually Transmitted Infections (STIs) are of great global health concern. Currently, there are limited epidemiological data characterizing STIs in the general population in Rwanda. We assessed the national and regional epidemiology of STIs in Rwanda from 2014–2020 among patients syndromically screened for STIs in all health facilities in Rwanda. Methods. This is a retrospective analysis of the trend of STIs epidemiology among screened patients at all health facilities in Rwanda using data from the Health Management Information System (HMIS) reporting. Adult patients (15 years and over) screened for STIs between July 2014 and June 2020 were included in the analysis. Outcomes of interest were the number of individuals screened for STIs and individuals diagnosed with at least one STI with a syndromic approach only or plus a test together. Results. Overall, the number of individuals screened for STIs over the study period was 5.3 million (M) in 2014–2015, 6.6 M in 2015–2016, 6.3 M in 2016–2017, 6.7 M in 2017–2018, 6.2 M in 2018–2019, and 4.9 M in 2019–2020. There was a modest increase in the number of individuals diagnosed and treated for STIs from 139,357 in 2014–15 to 202,294 (45% increase) in 2019–2020. At the national level, the prevalence of STI syndromes amongst individuals screened at health facilities in Rwanda varied between 2.37% to 4.16% during the study period. Among the provinces, Kigali city had the highest prevalence for the whole 6 years ranging from 3.46% (95%CI: 3.41, 3.51) in 2014–2015 to 8.23% (95%CI: 8.15, 8.31) in 2019–2020. Conclusion. From 2014 to 2020, the number of patients screened for STI syndromes in Rwanda varied between 4.9 M and 6.7 M. However, the prevalence of STIs among screened patients increased considerably over time, which could be associated with public awareness and improved data recording. The highest prevalence of all STIs was observed in urban areas and near borders, and private clinics reported more cases, suggesting the need to improve awareness in these settings and increase confidentiality and trust in public health clinics.