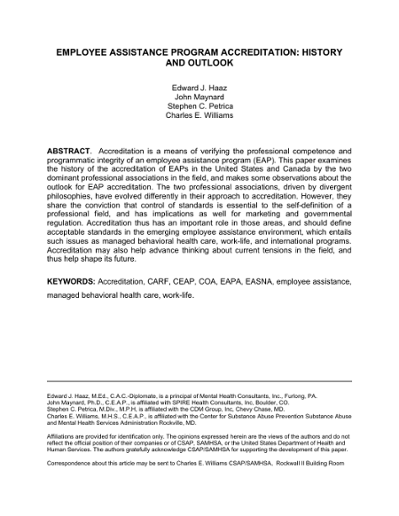 Name:
EAP Accreditation History and ...
Size:
95.5Kb
Format:
Microsoft Word
Description:
White Paper on Accreditation
Abstract
Accreditation is a means of verifying the professional competence and programmatic integrity of an employee assistance program (EAP). This paper examines the history of the accreditation of EAPs in the United States and Canada by the two dominant professional associations in the field, and makes some observations about the outlook for EAP accreditation. The two professional associations, driven by divergent philosophies, have evolved differently in their approach to accreditation. However, they share the conviction that control of standards is essential to the self-definition of a professional field, and has implications as well for marketing and governmental regulation. Accreditation thus has an important role in those areas, and should define acceptable standards in the emerging employee assistance environment, which entails such issues as managed behavioral health care, work-life, and international programs. Accreditation may also help advance thinking about current tensions in the field, and thus help shape its future.
Description
White Paper on the History of Accreditation in Canada & the US re: EAPs
The following license files are associated with this item:
Except where otherwise noted, this item's license is described as https://creativecommons.org/licenses/by-nc-nd/4.0/