Voice and Vision: Results of the 2016 Journal of Employee Assistance Reader Survey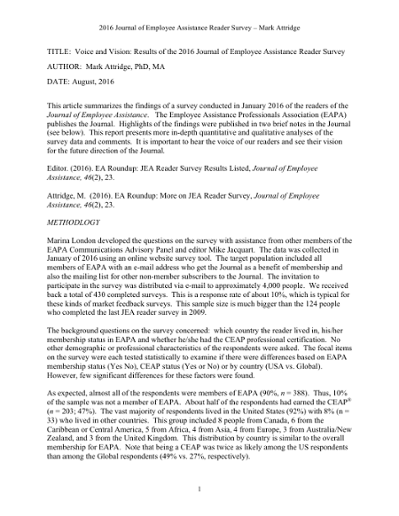 Name:
JEA 2016 READER SURVEY RESULTS ...
Size:
154.1Kb
Format:
PDF
Description:
Report of 2016 JEA Survey Results ...
Peer Reviewed
Marina London, EAPA; Michael Jacquart, Editor of JEA.
Abstract
Detailed report of methodology and results of a survey of the readers of the Journal of Employee Assistance - which is published quarterly for the members of the Employee Assistance Professionals Association (EAPA). A total of 430 people complete the online survey in early 2016. Items asked about aspects of use, format and value of the Journal and suggestions for future topics of interest to the EAP field. This is a more detailed report of the full statistical and qualitative analyses of the same data that had only been presented briefly in the Journal.
Table of Contents
• How much of each issue of JEA is typically read • If low readership, what are reasons for not reading JEA • How often are the various regular features and columns read • How appropriate is the length of most articles • Which distribution format is read most (print or online) • What is unique about JEA • What specific topics are most of interest for future issues • General comments
Description
Unpublished report of survey findings.
Sponsors
Employee Assistance Professionals Association (EAPA)