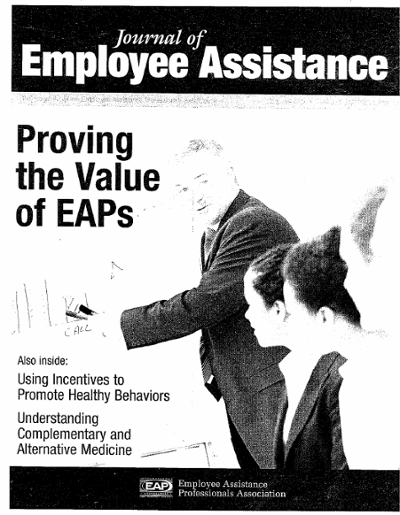 Name:
JEA - Proving the Value of EAPs.pdf
Size:
597.1Kb
Format:
PDF
Description:
Cover Article
Publisher
Employee Assistance Professionals Association
Abstract
There has been a clear trend in recent years for health insurance companies, disability carriers, group retirement plans and payroll management organizations to bundle employee assistance program services into their core products and off the EAP as "free". Under this arrangement, the insurance plan buys an inexpensive EAP from a vendor partner or provides an EAP within an affiliated divisions or department, then embeds the EAP in the plan to create product distinction and competitive advantage.
Description
Cover Article
Citation
Burke, J. J., & Sharar, D. A. (2009). Do "free" EAPs offer discernible value? Journal of Employee Assistance, 3rd quarter 2009, 6-9.