Workplace Experiences and Outcomes Related to Participation in the Flight Attendant Drug & Alcohol Program: An Exploratory Study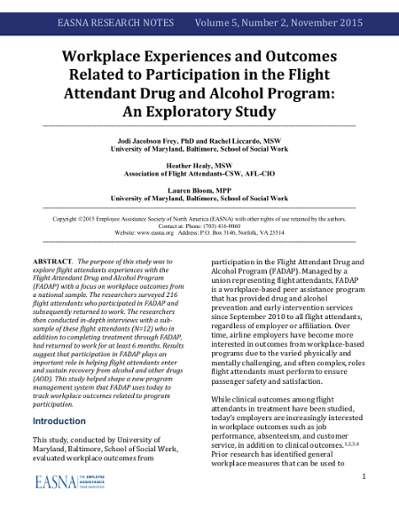 Name:
EASNA-Research-Notes-Vol-5-No- ...
Size:
382.3Kb
Format:
PDF
Description:
EASNA Research Note
Publisher
Employee Assistance Society of North America
Abstract
The purpose of this study was to explore flight attendants experiences with the Flight Attendant Drug and Alcohol Program (FADAP) with a focus on workplace outcomes from a national sample. The researchers surveyed 216 flight attendants who participated in FADAP and subsequently returned to work. The researchers then conducted in-depth interviews with a sub-sample of these flight attendants (N=12) who in addition to completing treatment through FADAP, had returned to work for at least 6 months. Results suggest that participation in FADAP plays an important role in helping flight attendants enter and sustain recovery from alcohol and other drugs (AOD). This study helped shape a new program management system that FADAP uses today to track workplace outcomes related to program participation.
Description
This study was conducted by the University of Maryland, Baltimore, School of Social Work.
Citation
Jacobson Frey, J., Liccardo, R., Healy, Heather, & Bloom, L. (2015). Workplace experiences and outcomes related to participation in the Flight Attendant Drug & Alcohol Program: An exploratory study. EASNA Research Notes, 5(2), 1-7. Available from: http://www.easna.org/publications.
Series/Report No.
EASNA Research Notes;Volume 5 - Number 2