The Workplace Effects of EAP Use: "Pooled" Results from 20 Different EAPs with Before and After WOS 5-item Data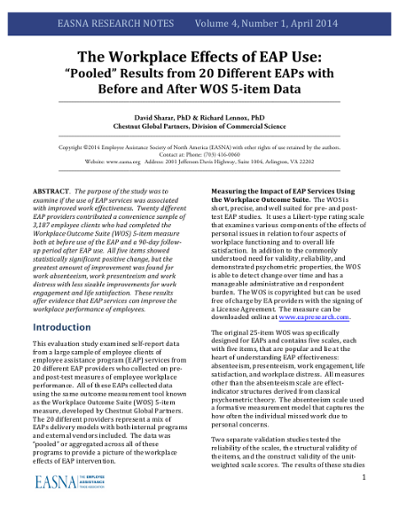 Name:
EASNA-Research-Notes-Vol-4-No- ...
Size:
1.246Mb
Format:
PDF
Description:
EASNA Research Note
Publisher
Employee Assistance Society of North America
Abstract
The purpose of the study was to examine if the use of EAP services was associated with improved work effectiveness. Twenty different EAP providers contributed a convenience sample of 3,187 employee clients who had completed the Workplace Outcome Suite (WOS) 5-item measure both at before use of the EAP and a 90-day follow- up period after EAP use. All five items showed statistically significant positive change, but the greatest amount of improvement was found for work absenteeism, work presenteeism and work distress with less sizable improvements for work engagement and life satisfaction. These results offer evidence that EAP services can improve the workplace performance of employees.
Description
Brief note (5 pages).
Citation
Sharar, D., & Lennox, R. (2014). The workplace effects of EAP services: "pooled" results from 20 different EAPs with before and after WOS 5-item data. EASNA Research Notes, 4(1), 1-5. Available form: http://www.easna.org/publications
Series/Report No.
EASNA Research Notes;Volume 4 - Number 1
Sponsors
Chestnut Global Partners
The following license files are associated with this item:
Except where otherwise noted, this item's license is described as https://creativecommons.org/licenses/by-nc-nd/4.0/