The Evolution of External Employee Assistance Programs Since the Advent of Managed Behavioral Health Organizations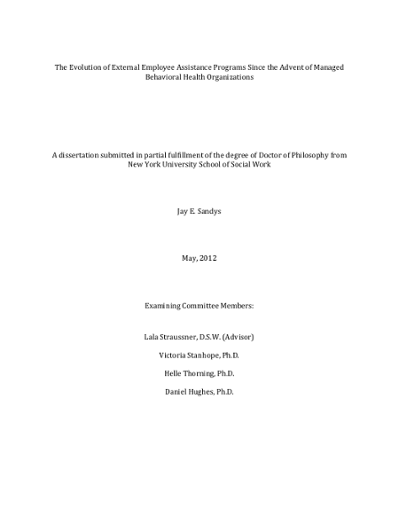 Name:
The evolution of EAPs, dissert ...
Size:
1.814Mb
Format:
PDF
Description:
Entire dissertation
Abstract
Employee assistance programs (EAPs) evolved due to market changes, including the emergence of managed behavioral health organizations (MBHOs), and pressure to be defined as a healthcare benefit instead of a workplace productivity tool. This study used a qualitative, grounded theory methodology to interview 26 top leaders at external, non-MBHO EAPs in the United States. Complex adaptive systems, industry life cycle, and organizational life cycle theories assisted in the interpretation of organizational change. Emergent findings include three primary changing market themes, and seven primary survival strategy themes. Influenced by social workers in the industry, EAPs adapted in a unique way that incorporates both business and social service values. Along with more sophisticated business practices, EAPs continue to focus on human services. While most services kept focus on workplace productivity, some EAPs offer services that do not have a workplace focus, a change that may threaten the ongoing viability of the program.
Citation
Sandys, J.E. The evolution of external employee assistance programs since the advent of managed behavioral health organizations. New York University, PhD, May, 2012.
The following license files are associated with this item:
Except where otherwise noted, this item's license is described as https://creativecommons.org/licenses/by-nc-nd/4.0/