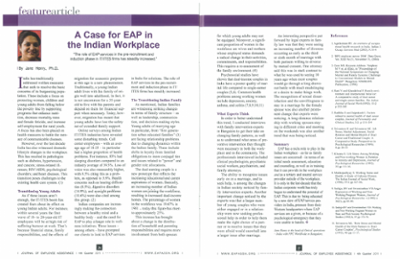 Name:
emp ass case for EPA in Indian ...
Size:
1.072Mb
Format:
PDF
Description:
Journal Article
Publisher
Employee Assistance Professional Association
Other Titles
The roles of EAP services in the pre-recruitment and induction phase of IT/ITES firms
Citation
Henry, J. (2011). A case for EAP in the Indian workplace. Journal of Employee Assistance, 41(1), 26-27.
The following license files are associated with this item: