Workplace Screening & Brief Intervention: The BIG (Brief Intervention Group) Initiative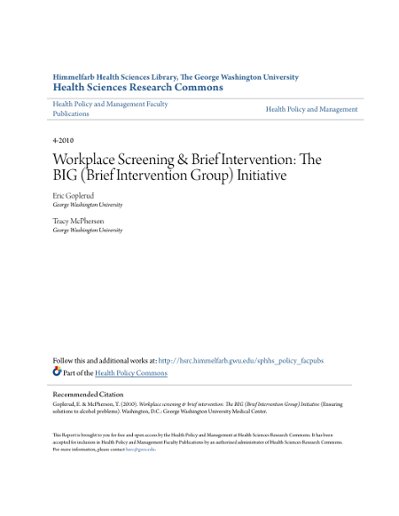 Name:
Workplace SBI - The BIG Initia ...
Size:
380.1Kb
Format:
PDF
Description:
Workplace SBI - The BIG Initiative
Abstract
Annually, about 5% of workers who have access to EAPs use them for brief counseling for mental health, substance use, work stress and family issues. That translates into between 5 million and 7 million working people accessing EAP services. Unfortunately, despite the wide availability of EAPs and high prevalence of alcohol use disorders among working people, only about 160,000 of EAP cases explicitly identify alcohol use as a primary problem (Amaral, personal communication, 2009). George Washington University (GW) is working with the EAP industry to dramatically change this.Through a cooperative agreement from the National Highway Traffic Safety Administration (NHTSA) and support from the Center for Substance Abuse Treatment (CSAT/SAMHSA), GW is facilitating a collaborative, the Brief Intervention Group ("BIG") Initiative, which brings together all the major EAP corporate and union national, regional, and many local leaders, employers, EAP clinical professional associations and representatives from the Federal and state agencies, with the aim of making screening, brief intervention, and referral to treatment (SBIRT) for alcohol problems routine practice across the EAP industry. The BIG Initiative has organized committees including the Steering Committee made up of senior leaders in the EAP field, the Implementation Committee focused on changing EAP call center practices, the Marketing/Outreach Committee focused on training and supporting change among EAP network providers, and the Performance Measurement and Accountability Committee focused on identification of measurement tools and common metrics to assess program impact on health and business outcomes.
Citation
Goplerud, E. & McPherson, T. (2010).Workplace screening & brief intervention: The BIG (Brief Intervention Group) Initiative (Ensuring solutions to alcohol problems). Washington, DC: George Washington University Medical Center.
The following license files are associated with this item:
Except where otherwise noted, this item's license is described as https://creativecommons.org/licenses/by-nc-nd/4.0/