The Evolution of Employee Assistance Programs in the US: A 20-Year Retrospective from 26 EAP Vendors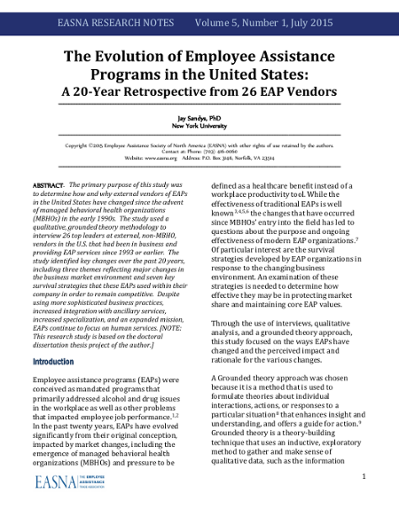 Name:
EASNA-Research-Notes-Vol-5-No- ...
Size:
585.6Kb
Format:
PDF
Description:
Main Article
Publisher
Employee Assistance Society of North America (EASNA)
Peer Reviewed
Joel Bennett - Organizational Wellness, and Barb Veeder - Morneau Shepell
Abstract
The primary purpose of this study was to determine how and why external vendors of EAPs in the United States have changed since the advent of managed behavioral health organizations (MBHOs) in the early 1990s. The study used a qualitative, grounded theory methodology to interview 26 top leaders at external, non-MBHO, vendors in the U.S. that had been in business and providing EAP services since 1993 or earlier. The study identified key changes over the past 20 years, including three themes reflecting major changes in the business market environment and seven key survival strategies that these EAPs used within their company in order to remain competitive. Despite using more sophisticated business practices, increased integration with ancillary services, increased specialization, and an expanded mission, EAPs continue to focus on human services. [NOTE: This research study is based on the doctoral dissertation thesis project of the author.]
Description
This article is based on a doctoral dissertation that examined the change over time of external EAP vendors.
Citation
Sandys, J. (2015). The evolution of Employee Assistance Programs in the United States: A 20-year retrospective from 26 EAP vendors. EASNA Research Notes, 5(1). Available from: http://www.easna.org/publication