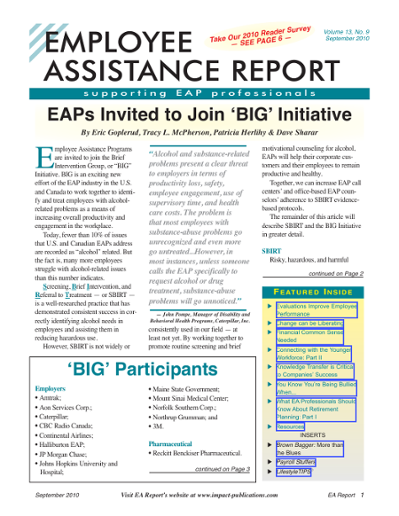 Name:
Employee Assistance Report EAPs ...
Size:
356.4Kb
Format:
PDF
Description:
Main Article
Publisher
Employee Assistance Report
Abstract
"Alcohol and substance-related problems present a clear threat to employers in terms of productivity loss, safety, employee engagement, use of supervisory time, and health care costs. The problem is that most employees with substance-abuse problems go unrecognized and even more go untreated...However, in most instances, unless someone calls the EAP specifically to request alcohol or drug treatment, substance-abuse problems will go unnoticed." — John Pompe, Manager of Disability and Behavioral Health Programs, Caterpillar, Inc.
Description
Article describing the BIG Initiative and its attempt to educate EAP Professionals to use the SBIRT Scale for assessing substance abuse problems.
Citation
Gloperud, E., McPherson, T. L., Herlihy, P. A., & Sharar D. A. (2010, September). EAPs invited to join 'BIG' initiative. Employee Assistance Report, 13(9), 1-3.