Occupational social work: From social control to social assistance?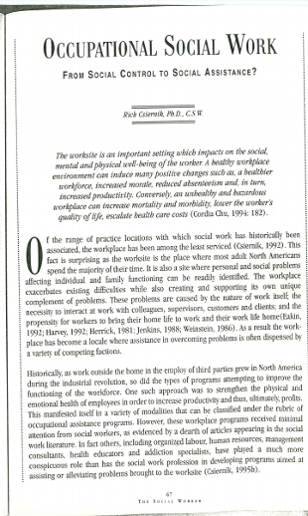 Name:
12 - EAP as social control.pdf
Size:
3.783Mb
Format:
PDF
Description:
peer reviewed journal article
Publisher
Canadian Association of Social Workers
Abstract
The worksite is an important setting which impacts on the social, mental and physical well-being of the worker. A healthy workplace environment can induce many positive changes such as, a healthier workforce, increased morale, reduced absenteeism and, in turn, increased productivity. Conversely, an unhealthy and hazardous workplace can increase mortality and morbidity, lower the worker's quality of life, escalate health care costs.
Citation
Csiernik, R. (1996). Occupational social work: From social control to social assistance? The Social Worker, 64 (3), 67-74.
Related items
Showing items related by title, author, creator and subject.
Social capital and cost-related medication nonadherence (CRN): A retrospective longitudinal cohort study using the Health and Retirement Study data, 2006–2016

Majercak, Kayleigh R.; Magder, Laurence S.; Villalonga-Olives, Ester (

Elsevier Ltd.

,

2020-10-05

)

Prescription drug spending and other financial factors (e.g., out-of-pocket costs) partially explain variation in cost-related medication nonadherence (CRN). Indicators of social capital such as neighborhood factors and social support may influence the health and well-being of older adults as they may rely on community resources and support from family and peers to manage conditions. Previous research on the relationship of social capital and CRN has limited evidence and contradictory findings. Hence, our objective is to assess the relationship of social capital indicators (neighborhood social cohesion, neighborhood physical disorder, positive social support, and negative social support) and CRN using a longitudinal design, 2006 to 2016, in a nationally representative sample of older adults in the United States (US). The Health and Retirement Study is a prospective panel study of US adults aged ≥ 50 years evaluated every two years. Data was pooled to create three waves and fitted using Generalized Estimating Equation modelling adjusting for both baseline and timevarying covariates (age, sex, education, race, total household income, and perceived health status). The three waves consisted of 11,791, 12,336, and 9,491 participants. Higher levels of neighborhood social cohesion and positive social support were related with lower CRN (OR 0.92, 95% CI 0.88-0.95 and OR 0.77, 95% CI 0.70-0.84, p<0.01). In contrast, higher levels of neighborhood physical disorder and negative social support were related to higher CRN (OR 1.07, 95% CI 1.03-1.11 and OR 1.46, 95% CI 1.32-1.62, p<0.01). Interventions targeting social capital are needed, reinforcing positive social support and neighborhood social cohesion and diminishing neighborhood physical disorder and negative social support for older adults.

1968: The Turning Point Year When U.S. Social Work Failed to Turn

Reisch, Michael, 1948- (

2018-03

)

The year 1968 was a potential turning point in the history of U.S. social work. After a generation of inward looking conservatism, significant numbers of American social workers revived the radical tradition of the profession that the purges of the post-war McCarthy period had repressed. New social movements, particularly the civil rights movement, the anti-war movement, and second wave feminism, and the efforts of activists outside of social work, from Saul Alinsky and Cesar Chavez to the National Welfare Rights Organization, inspired new approaches to advocacy, research, practice, and education. Inside and outside professional organizations and social service agencies, social workers began to advocate for progressive policies, the use of more expansive and more democratic practice frameworks, and the inclusion of content on race, gender, class, and sexuality in social work education. For a brief period, it appeared that a major transformation of the profession was possible, even inevitable. Although the events of this critical year produced some important changes in social work practice and education, they did not change its fundamental orientation. Ironically, both the ultimate failure of the era's radical activism and the introduction of identity-based content into the profession's vocabulary and mission made U.S. social work more vulnerable to conservative attacks during the past half century. The developments that resulted from the "year of the barricades" also made it more difficult for the profession to articulate a unified vision for a rapidly changing environment and to translate that vision into new models of practice, research, and education.