The Story of Integration: Reflections on Four Research Studies over 20 Years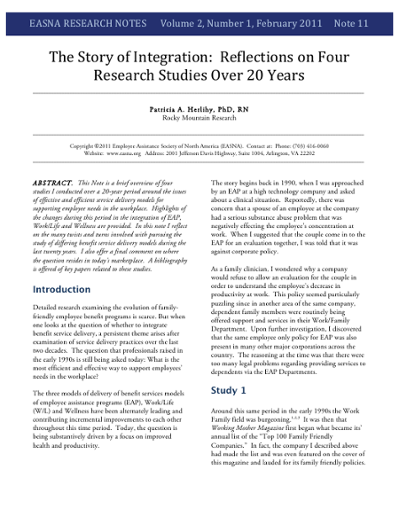 Name:
The Story of Integration - EASNA ...
Size:
194.6Kb
Format:
PDF
Description:
Main Article
Publisher
Employee Assistance Society of North America (EASNA)
Abstract
This Note is a brief overview of four studies I conducted over a 20-year period around the issues of effective and efficient service delivery models for supporting employee needs in the workplace. Highlights of the changes during this period in the integration of EAP, Work/Life and Wellness are provided. In this note I reflect on the many twists and turns involved with pursuing the study of differing benefit service delivery models during the last twenty years. I also offer a final comment on where the question resides in today's marketplace. A bibliography is offered of key papers related to these studies.
Description
Reflections on Four Studies over a 20 year period on the concept of Integration of Services.
Citation
Herlihy, P.A. (2011). The story of integration: reflections on four research studies over 20 years. EASNA Research Notes, 2(1), 1-4. Available from: http://www.easna.org/publications
Series/Report No.
EASNA Research Notes; Note 11