The Mental Health Status of Expatriate versus U.S. Domestic Workers: A Comparative Study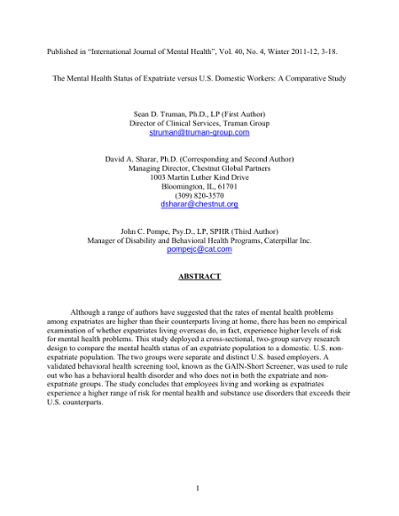 Name:
ExPat Mental Health Paper - May ...
Size:
34.31Kb
Format:
Microsoft Word 2007
Description:
Expatriate vs U.S. Domestic Workers
Publisher
International Journal of Mental Health
Abstract
Although a range of authors have suggested that the rates of mental health problems among expatriates are higher than their counterparts living at home, there has been no empirical examination of whether expatriates living overseas do, in fact, experience higher levels of risk for mental health problems. This study deployed a cross-sectional, two-group survey research design to compare the mental health status of an expatriate population to a domestic. U.S. non-expatriate population...
Citation
Truman, S. D., Sharar, D. A. & Pompe, J. C. (2011) The mental health status of expatriate versus U.S. domestic workers: a comparative study. International Journal of Mental Health, 40(4), 3-18.