Employee Assistance Program Services for Alcohol and Other Drug Problems: Implications for Increased Identification and Engagement in Treatment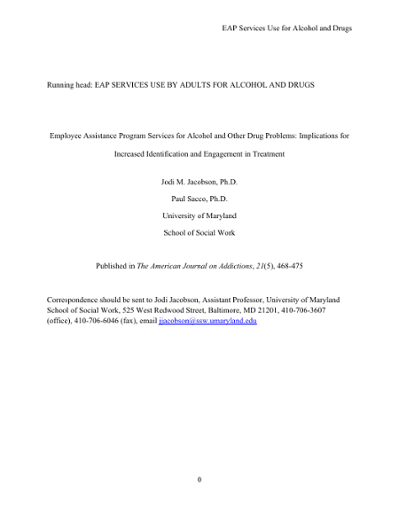 Name:
Jacobson_Sacco_final_inpress.docx
Size:
110.9Kb
Format:
Microsoft Word 2007
Description:
Jacobson & Sacco 2012
Date
2012-09
Publisher
John Wiley and Sons, Inc.
Peer Reviewed
Yes
Type
Article
Abstract
This study examined Employee Assistance Program (EAP) services use among a national probability sample of adults who have sought help for alcohol and other drug (AOD) problems during their lifetime. Data came from the National Epidemiologic Survey on Alcohol and Related Conditions (NESARC, 2001-2002). Among adults who sought any services for alcohol and/or drug-related problems (n=2272), 7.45% (n=166) reported using EAP services for these problems at some point during their lives. Major Depressive Disorder (lifetime), a drug use disorder (lifetime), and Black race/ethnicity were associated with a greater likelihood that someone would seek EAP services for help with their AOD problem. Results provide a foundation from which researchers can understand who uses EAP services for AOD problems. Additionally, health and mental health professionals should increase their knowledge of EAP services to improve collaboration and continuity of care for employees with AOD problems. EAPs are in a unique position to reach out to vulnerable employees in the workplace through alcohol and other mental health screening and work to engage troubled employees in treatment.
Description
This is the accepted version of the following article: Jacobson, J., & Sacco, P. (2012). Employee Assistance Program Services for Alcohol and Other Drug Problems: Implications for Increased Identification and Engagement in Treatment. American Journal on Addictions, 21(5), 468-475, which has been published in final form at http://onlinelibrary.wiley.com/doi/10.1111/j.1521-0391.2012.00256.x/abstract
Citation
Jacobson, J., & Sacco, P. (2012). Employee Assistance Program Services for Alcohol and Other Drug Problems: Implications for Increased Identification and Engagement in Treatment. American Journal on Addictions, 21(5), 468-475
Rights/Terms
Copyright of American Journal on Addictions is the property of Wiley-Blackwell and its content may not be copied or emailed to multiple sites or posted to a listserv without the copyright holder's express written permission. However, users may print, download, or email articles for individual use.

ae974a485f413a2113503eed53cd6c53

10.1111/j.1521-0391.2012.00256.x
Scopus Count