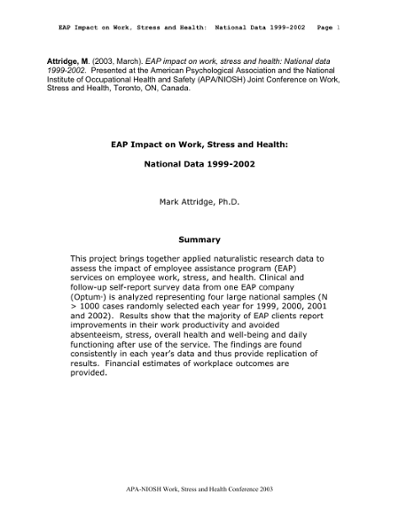 Name:
APANIOSH 2003 Abstract Attridge ...
Size:
146.3Kb
Format:
PDF
Description:
Attridge 2003 Summary of Research ...
Abstract
This project brings together applied naturalistic research data to assess the impact of employee assistance program (EAP) services on employee work, stress, and health. Clinical and follow-up self-report survey data from one EAP company (Optum®) is analyzed representing four large national samples (N > 1000 cases randomly selected each year for 1999, 2000, 2001 and 2002). Results show that the majority of EAP clients report improvements in their work productivity and avoided absenteeism, stress, overall health and well-being and daily functioning after use of the service. The findings are found consistently in each year's data and thus provide replication of results. Financial estimates of workplace outcomes are provided.
Table of Contents
Statement of Problem. Samples. Procedure. Results. Conclusion. References.
Description
Summary paper of research presented at an academic conference. 6-page document with references.
Citation
Attridge, M. (2003, March). EAP impact on work, stress and health: National data 1999-2002. Presented at the American Psychological Association and the National Institute of Occupational Health and Safety (APA/NIOSH) Joint Conference on Work, Stress and Health, Toronto, ON, Canada.