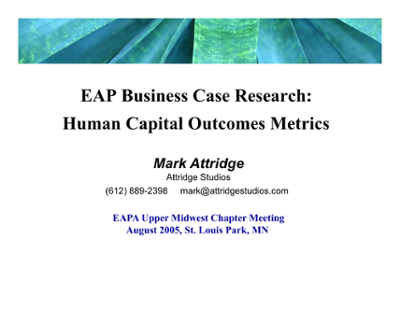 Name:
Attridge 2005 EAP Business Case ...
Size:
5.171Mb
Format:
PDF
Description:
Attridge 2005 EAP Business Case ...
Abstract
This presentation provides an overview of research that examines the business case and outcomes from employee assistance and work/life services. The presentation has four areas. Part 1. EAP Business Value Model; Part 2. Integration Trends and Models; Part 3.Role of Partners in Driving Value; and Part 4. Measurement Implications
Description
Slides from a presentation. Total of 43 slides.
Citation
Attridge, M. (2005, August). EAP business case research: Human capital outcome metrics. Presented at the meeting of the Upper Midwest Chapter of the Employee Assistance Professional Association, Minneapolis, MN.