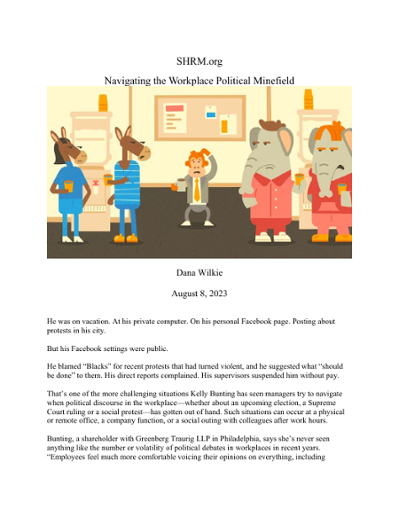 Name:
SHRM - Workplace politics 8-23.docx
Size:
285.6Kb
Format:
Microsoft Word 2007
Description:
Blog
Abstract
That's one of the more challenging situations Kelly Bunting has seen managers try to navigate when political discourse in the workplace—whether about an upcoming election, a Supreme Court ruling or a social protest—has gotten out of hand. Such situations can occur at a physical or remote office, a company function, or a social outing with colleagues after work hours. Bunting, a shareholder with Greenberg Traurig LLP in Philadelphia, says she's never seen anything like the number or volatility of political debates in workplaces in recent years. "Employees feel much more comfortable voicing their opinions on everything, including politics, even at work," Bunting says. "I think norms regarding respect for different opinions have also weakened, and employees will [now] say something out loud [when] before they may have just walked away. It seems it's growing harder for managers to prevent these conflicts." In SHRM's 2022 Politics at Work Study, 20 percent of HR professionals agreed there was greater political volatility at work than there was three years earlier. SHRM found that nearly a quarter of U.S. workers (24 percent) have personally experienced political affiliation bias, including preferential treatment or undue negative treatment based on their political positions or opinions, compared to 12 percent of U.S. workers in 2019. "It doesn't have to be clearly over the line for a lot of people to say, 'I'm fed up with this person, and I won't deal with them anymore,' " says Stephen Paskoff, a former litigator with the U.S. Equal Employment Opportunity Commission and author of multiple books on political discussions at work. "I started as a congressional intern in college, worked in D.C., and this is as intense as I recall it ever being. And I grew up in the '60s. It's not just, 'Are you Republican or Democrat?' It's 'What do you think about abortion, affirmative action, DE&I, gun control, gender identification?' There are so many issues wound up in our politics, and none of them is just casual."
Citation
Wilkie, Dana. ( 2023).Navigating the Workplace Political Minefield. SHRM Newsletter.
Rights/Terms
Attribution-NonCommercial-NoDerivatives 4.0 International
The following license files are associated with this item:
Except where otherwise noted, this item's license is described as Attribution-NonCommercial-NoDerivatives 4.0 International