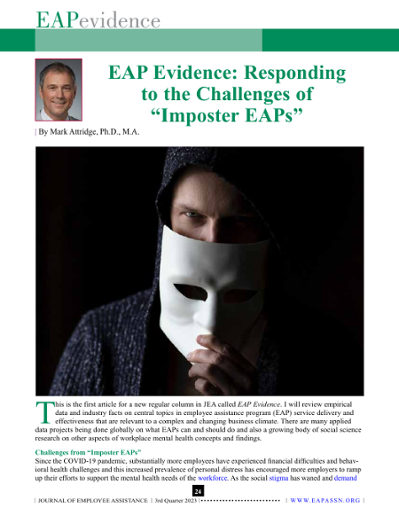 Name:
Attridge_2023_JEA_EAPEvidenceC ...
Size:
374.2Kb
Format:
PDF
Description:
PDF file 4 pages
Journal
Journal of Employee Assistance
Publisher
Employee Assistance Professionals Association
Abstract
This is the first article for a new regular column in JEA called EAP Evidence. I will review empirical data and industry facts on central topics in employee assistance program (EAP) service delivery and effectiveness that are relevant to a complex and changing business climate. Since the COVID-19 pandemic, substantially more employees have experienced financial difficulties and behavioral health challenges and this increased prevalence of personal distress has encouraged more employers to ramp up their efforts to support the mental health needs of the workforce. As the social stigma has waned and demand for EAP has soared, billions of dollars of venture capital has flowed into many companies that are relatively new to this global market. These providers typically sell some mix of digital Apps and internet platforms with self-care tools, iCBT robot programs, artificial intelligence features, and online-only access to human support from peers, coaches, or counselors. This profit-driven context has generated marketing efforts that are directly confrontational with fictionalized versions of EAP. I frequently see examples of marketing that mischaracterize the purpose of EAPs, how EAPs are used, and how EAPs deliver results to the users and the work organizations they serve. I call these new businesses "Imposter EAPs" because they strive to replace real EAPs with technology-focused products that lack many of the core components of employee assistance
Table of Contents
1. Challenges from "Imposter EAPs" 2. Technology is not enough. 3. A deep and diverse evidence base for EAP. 4. Summary.
Citation
Attridge, M. (2023). EAP Evidence: Responding to the challenge of imposter EAPs. Journal of Employee Assistance, 53(3), 24-26.
Sponsors
Attridge Consulting, Inc.
Rights/Terms
Copyright to the author.