Formal Management Referrals Compared to Self- Referrals to Counseling from an External Employee Assistance Program (EAP) in the United States 2017- 2023: Profiles of User Characteristics and Work and Clinical Outcomes at Before and After Treatment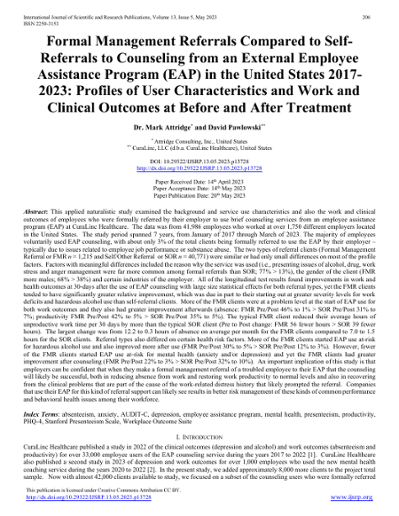 Name:
Attridge Pawlowski 2023 IJSRP - ...
Size:
2.379Mb
Format:
PDF
Description:
PDF file - 26 pages.
Journal
International Journal of Scientific and Research Publications
Publisher
International Journal of Scientific and Research Publications
Abstract
This applied naturalistic study examined the background and service use characteristics and also the work and clinical outcomes of employees who were formally referred by their employer to use brief counseling services from an employee assistance program (EAP) at CuraLinc Healthcare. The data was from 41,986 employees who worked at over 1,750 different employers located in the United States. The study period spanned 7 years, from January of 2017 through March of 2023. The majority of employees voluntarily used EAP counseling, with about only 3% of the total clients being formally referred to use the EAP by their employer – typically due to issues related to employee job performance or substance abuse. The two types of referral clients (Formal Management Referral or FMR n = 1,215 and Self/Other Referral or SOR n = 40,771) were similar or had only small differences on most of the profile factors. Factors with meaningful differences included the reason why the service was used (i.e., presenting issues of alcohol, drug, work stress and anger management were far more common among formal referrals than SOR; 77% > 13%), the gender of the client (FMR more males; 68% > 38%) and certain industries of the employer. All of the longitudinal test results found improvements in work and health outcomes at 30-days after the use of EAP counseling with large size statistical effects for both referral types, yet the FMR clients tended to have significantly greater relative improvement, which was due in part to their starting out at greater severity levels for work deficits and hazardous alcohol use than self-referral clients. More of the FMR clients were at a problem level at the start of EAP use for both work outcomes and they also had greater improvement afterwards (absence: FMR Pre/Post 46% to 1% > SOR Pre/Post 31% to 7%; productivity FMR Pre/Post 42% to 5% > SOR Pre/Post 35% to 5%). The typical FMR client reduced their average hours of unproductive work time per 30 days by more than the typical SOR client (Pre to Post change: FMR 56 fewer hours > SOR 39 fewer hours). The largest change was from 12.2 to 0.3 hours of absence on average per month for the FMR clients compared to 7.0 to 1.5 hours for the SOR clients. Referral types also differed on certain health risk factors. More of the FMR clients started EAP use at-risk for hazardous alcohol use and also improved more after use (FMR Pre/Post 30% to 5% > SOR Pre/Post 12% to 3%). However, fewer of the FMR clients started EAP use at-risk for mental health (anxiety and/or depression) and yet the FMR clients had greater improvement after counseling (FMR Pre/Post 22% to 3% > SOR Pre/Post 32% to 10%). An important implication of this study is that employers can be confident that when they make a formal management referral of a troubled employee to their EAP that the counseling will likely be successful, both in reducing absence from work and restoring work productivity to normal levels and also in recovering from the clinical problems that are part of the cause of the work-related distress history that likely prompted the referral. Companies that use their EAP for this kind of referral support can likely see results in better risk management of these kinds of common performance and behavioral health issues among their workforce.
Citation
Attridge, M., & Pawlowski, D. (2023). Formal management referrals compared to self-referrals to counseling from an external employee assistance program (EAP) in the United States 2017-2023: Profiles of user characteristics and work and clinical outcomes at before and after treatment. International Journal of Scientific and Research Publications, 13(5), 206-231. https://www.ijsrp.org/research-paper-0523/ijsrp-p13728.pdf
Sponsors
CuraLinc Healthcare