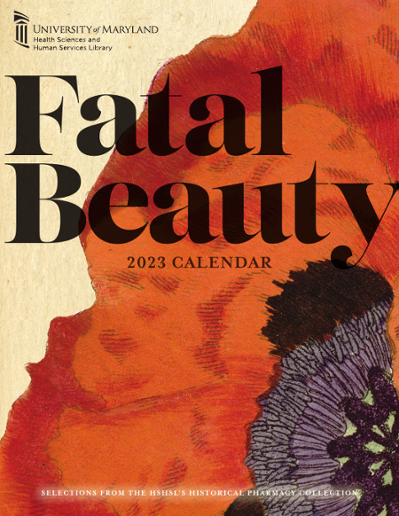 Name:
FatalBeautyCalendar2023asprint ...
Size:
19.37Mb
Format:
PDF
Description:
PDF of 2023 Fatal Beauty Calendar
Other Titles
2023 Health Sciences and Human Services Library Calendar
Abstract
The 2023 Health Sciences and Human Services Calendar, Bloom, features a selection of botanicals from the Historical Collections department. The Fatal Beauty Calendar was inspired by an exhibit with the same name installed in the Weise Gallery in Summer 2022. It features botanicals with medicinal purposes but fatal results if used inappropriately.
Description
Botanicals featured come from the following volumes: Bentley, Robert. Medicinal plants. Being descriptions with original figures of the principal plants employed in medicine and an account of the characters, properties, and uses of their parts and products of medicinal value. By Robert Bentley and Henry Trimen. Plates by David Blair. In four volumes. London: J. & A. Churchill, 1880. Curtis, William and Sir William Jackson Hooker. The Botanical Magazine; or Flower-Garden Displayed. or Curtis's Botanical Magazine. London:Reeve Brothers. 1787. Graves, George. Hortus medicus, or figures and descriptions of the more important plants used in medicine: or possessed of poisonous qualities; with their medical properties, chemical analysis, &c. &c. Edinburgh: Black, 1834. Millspaugh, Charles Frederick. American medicinal plants; an illustrated and descriptive guide to the American plants used as homoeopathic remedies: their history, reparation, chemistry and physiological effects. New York: Boericke & Tafel, 1887. Withering, William. An Account of the Foxglove, and Some of its Medical Uses: with Practical Remarks on Dropsy, and Other Diseases…. Birmingham, England: M. Swinney, 1785. Woodville, William. Medical botany, containing systematic and general descriptions, with plates of all the medicinal plants, indigenous and exotic, comprehended in the catalogues of the materia medica, as published by the Royal Colleges of Physicians of London and Edinburgh. London: J. Phillips, 1790.
Rights/Terms
Attribution-NonCommercial-ShareAlike 4.0 International
Collections
The following license files are associated with this item:
Except where otherwise noted, this item's license is described as Attribution-NonCommercial-ShareAlike 4.0 International