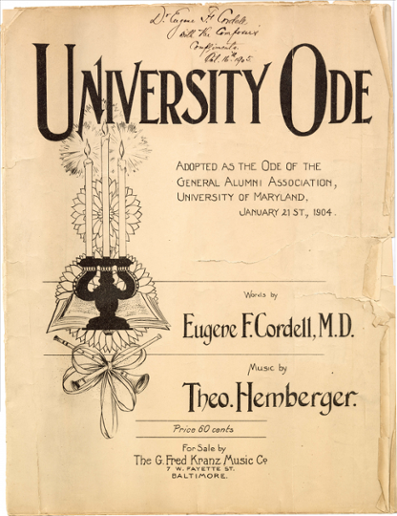 Name:
University Ode Complete.pdf
Size:
22.05Mb
Format:
PDF
Description:
PDF of University Ode
Abstract
For the 100th Anniversary of the University of Maryland Dr. Eugene F. Cordell (words) and Dr. Theodor Hemberger (music) worked together to compose the University Ode, which was adopted as the official ode/alma mater by the General Alumni Association on January 21, 1904. The document includes the musical score for the song.
Description
This piece was donated to the library on October 16, 1905 by Dr. Eugene F. Cordell. The Ode was sold by the G. Fred Kranz Music Co., Baltimore. The physical document is held in the Historical Collections of the Health Sciences and Human Services Library.
Rights/Terms
CC0 1.0 Universal
Collections
The following license files are associated with this item: