A New Look at Work and Well-being: Strategies from NIOSH Total Worker Health® for the Nation's Mental Health Crisis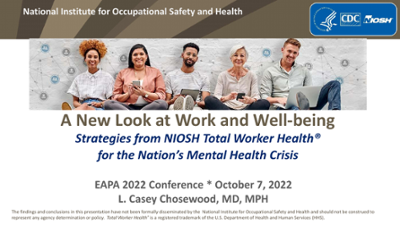 Name:
EAPA Chosewood Presentation Oct ...
Size:
2.205Mb
Format:
PDF
Description:
Keynote Power Point
Abstract
These slides are from L. Casey Chosewood's Keynote presentation at the EAPA Conference in Norfolk, VA in October, 2022. This presentation addresses the current workplace challenges through NIOSH's lens about the Total Worker's Health Program with specific attention in how relates to the EAP field. Total Worker's Health is an evidenced-based way to protect and improve worker well-being, both on and off the job. This set of holistic, integrated strategies seeks to craft safer jobs, promote healthier work policies and environments and lead to improved health outcomes and engagement among all workers, in all types of work settings - large and small. Practical and actionable steps were provided to assist EAP Professionals with organizational and leadership responsibilities.
Sponsors
Office for Total worker Health - NIOSH
Rights/Terms
Attribution-NonCommercial-NoDerivatives 4.0 International
The following license files are associated with this item:
Except where otherwise noted, this item's license is described as Attribution-NonCommercial-NoDerivatives 4.0 International