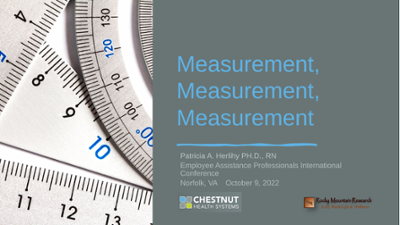 Name:
Chestnut DRAFT V10.pptx
Size:
23.71Mb
Format:
Microsoft PowerPoint 2007
Description:
power point slides
Abstract
Over the last decade there has been increasing requests for reliable instruments that measure the effectiveness of EAP services in general as well as specific assistance such as Critical Incident Response. Dave Sharar and his research team developed the Workplace Outcome Suite (WOS) in 2009 which has become one of the most widely used assessment tools in the field. Then in 2015, Sharar's team developed the Critical Incident Outcome Measurement (CIOM) to effectively assess CIR offerings. The current area of scrutiny in the workplace revolves around the concept of diversity. Although there have been programs that addressed these issues since the early 1990s, the current racial justice issues of equality and inclusion have sparked renewed attention of organizations looking to evaluate how their work environments measure up. Dr Sharar's research team has recently developed a statistically validated Workplace Inclusion Scale (WIS). The scale was designed to provide employees with a quick and easy way to provide their perceptions and impressions of how their organizations are implementing such programs. The results provide EAPs and DEI professionals the pulse of employees when evaluating workplace climate and the success of diversity and equity initiatives. Currently there are no known measures of workplace inclusion in the public domain, peer review published, and most importantly, distinctively short and easy to understand and complete. The Workplace Inclusion Scale (WIS) fits this niche. This presentation will introduce this new tool to the EAP audience and explore its possible applications to the myriad of services offered in this field.
Description
These are the Power Point Slides that were used in a presentation in Norfolk, VA at the International EAPA Conference in October 2022.
Sponsors
Chestnut Health Systems
Rights/Terms
Attribution-NonCommercial-NoDerivatives 4.0 International
The following license files are associated with this item:
Except where otherwise noted, this item's license is described as Attribution-NonCommercial-NoDerivatives 4.0 International