Employee Assistance Programs in the United States: Market Update, Research Outcomes, & Techno Trends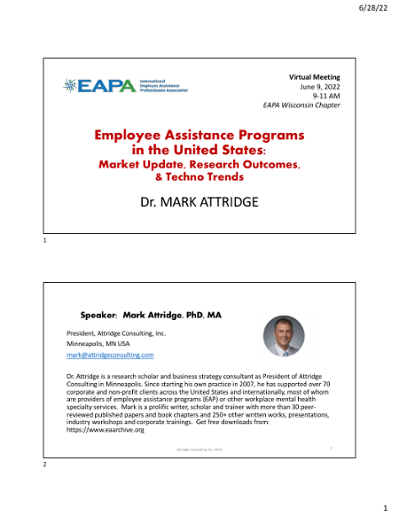 Name:
Attridge - EAPA-WISCONSIN webinar ...
Size:
3.957Mb
Format:
PDF
Description:
Slides (55 total - printed 2 per ...
Abstract
This presentation features research-based trends in the employee assistance program (EAP) industry in the United States. Recent data on market size, the boom in new technology-based mental health support provider companies, and research on the outcomes of EAP counseling are examined. Recommendations are given for how to better understand and evaluate the wide range of EAP and other workplace mental health support service offerings now available as employee benefits.
Table of Contents
1. EAP Industry Market Update in United States. 2. EAP Counseling Effectiveness: New Research. 3. COVID-19 Pandemic & Techno Trends for EAP. References.
Description
Presentation at a conference (2 hours). Summary of several recent projects in EAP field.
Citation
Attridge, M. (2022, June 9). Employee assistance programs in the United States: Market update, research outcomes and techno trends. [Virtual presentation]. Employee Assistance Professionals Association (EAPA) Wisconsin Chapter.
Sponsors
Wisconsin Chapter of Employee Assistance Professionals Associaton (EAPA).