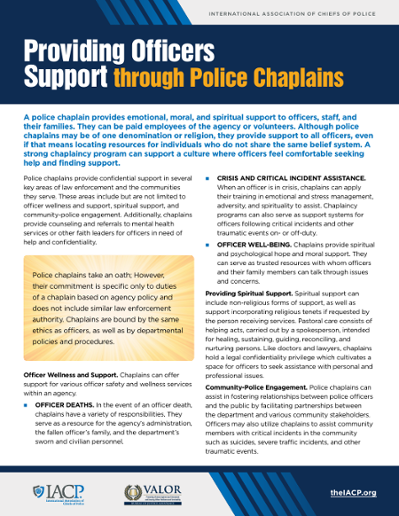 Name:
Providing Officers Support through ...
Size:
266.1Kb
Format:
PDF
Description:
newsletter
Publisher
International Association of Chiefs of Police (IACP)
Abstract
A police chaplain provides emotional, moral, and spiritual support to officers, staff, and their families. They can be paid employees of the agency or volunteers. Although police chaplains may be of one denomination or religion, they provide support to all officers, even if that means locating resources for individuals who do not share the same belief system. A strong chaplaincy program can support a culture where officers feel comfortable seeking help and finding support.
Rights/Terms
Attribution-NonCommercial-NoDerivatives 4.0 International
The following license files are associated with this item:
Except where otherwise noted, this item's license is described as Attribution-NonCommercial-NoDerivatives 4.0 International