Trauma and substance use disorder: Recovery begins with embracing our pain and taking the risk to share it with others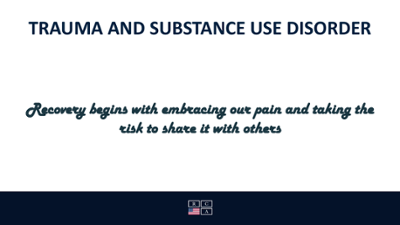 Name:
Trauma informed training 1 hour ...
Size:
1.275Mb
Format:
PDF
Description:
power point presentation
Abstract
This is a presentation that was given at the Rocky Mountain EAPA Chapter in the latter part of 2021. The goals of this particular presentation were: To be able to define traumatic stress and Substance Use Disorder. To provide information on the effects of substance use and trauma on brain functioning. To understand the different types of trauma and the components of trauma-informed care. To develop a basic understanding of effective treatments for people with traumatic exposure and substance use.
Sponsors
Rocky Mountain EAPA Chapter
Rights/Terms
Attribution-NonCommercial-NoDerivatives 4.0 International
The following license files are associated with this item:
Except where otherwise noted, this item's license is described as Attribution-NonCommercial-NoDerivatives 4.0 International