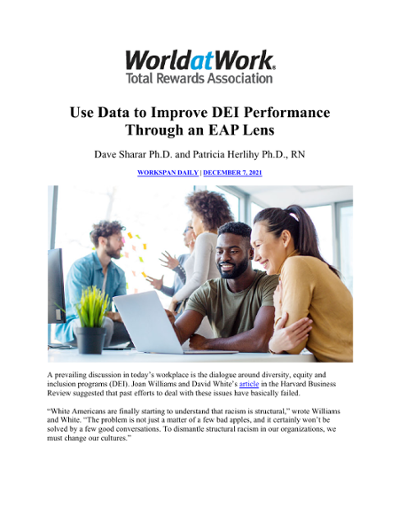 Name:
Use Data to Improve DEI Performance ...
Size:
901.4Kb
Format:
PDF
Description:
column
Abstract
A prevailing discussion in today's workplace is the dialogue around diversity, equity and inclusion programs (DEI). Joan Williams and David White's article in the Harvard Business Review suggested that past efforts to deal with these issues have basically failed. "White Americans are finally starting to understand that racism is structural," wrote Williams and White. "The problem is not just a matter of a few bad apples, and it certainly won't be solved by a few good conversations. To dismantle structural racism in our organizations, we must change our cultures." The question is whether programs have actually stalled or has the "playing field" shifted and changed? The 2020 deaths of unarmed Black Americans, including Ahmaud Arbery, George Floyd, and Breonna Taylor, generated widespread agitation and protests across the United States. In the aftermath of the violence and unrest, many Americans have come to believe that the country needs to pass new civil rights laws to counter racial discrimination. This realization has also spilled over into private sector employee recruitment and retention practices. A majority of Americans believe private sector organizations bear responsibility for helping to create a more equitable and just society. As a result, a renewed urgency is being seen within workplaces to revise diversity policies and foster inclusion. A recent Fortune/Deloitte Survey found that 96% of CEOs agree that DEI is a strategic priority for their companies.
Citation
Sharar, David and Herlihy, Patricia. (2021). Use Data to Improve DEI Performance Through an EAP Lens. WorkSpan Daily. World at Work.
Sponsors
Chestnut Health Systems
Rights/Terms
Attribution-NonCommercial-NoDerivatives 4.0 International
The following license files are associated with this item:
Except where otherwise noted, this item's license is described as Attribution-NonCommercial-NoDerivatives 4.0 International