Well Fatigue Management Being, Championship, and Fatigue Management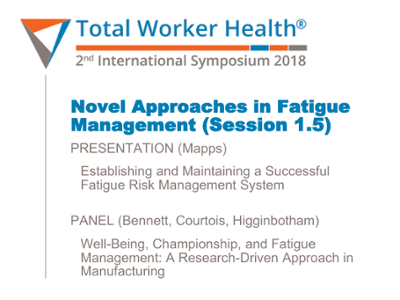 Name:
1_TWH Presentation final.pdf
Size:
2.566Mb
Format:
PDF
Description:
Presentation of workplace data ...
Name:
OLT Energy and Focus Test and ...
Size:
2.565Mb
Format:
Microsoft PowerPoint 2007
Description:
Power Point slides for OLT program ...
Description
Two sets of slides highlighting the Owings Corning approach to providing a healthy work environment for their employees. Included are descriptions of their Healthy Living Program; the OWLS Process Consulting Model and their Wellness Champion Strategy. The Energy Focus Test & Learn slide set focuses on the steps the company took to reduce employee fatigue.
Citation
Bennett, Joel, Courtois, Paul and Higginbotham, Laura. ( 2018). Novel Approaches in Fatigue Management. Total Worker Health 2nd International Symposium
Rights/Terms
Attribution-NonCommercial-NoDerivatives 4.0 International
The following license files are associated with this item:
Except where otherwise noted, this item's license is described as Attribution-NonCommercial-NoDerivatives 4.0 International