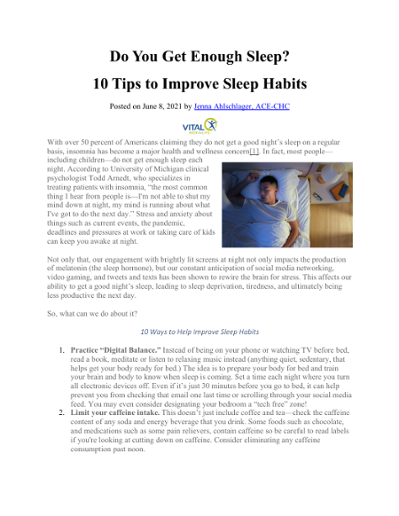 Name:
Do You Get Enough Sleep.pdf
Size:
280.7Kb
Format:
PDF
Description:
Blog on Sleep Habits
Abstract
With over 50 percent of Americans claiming they do not get a good night's sleep on a regular basis, insomnia has become a major health and wellness concern[1]. In fact, most people—including children—do not get enough sleep each night. According to University of Michigan clinical psychologist Todd Arnedt, who specializes in treating patients with insomnia, "the most common thing I hear from people is—I'm not able to shut my mind down at night, my mind is running about what I've got to do the next day." Stress and anxiety about things such as current events, the pandemic, deadlines and pressures at work or taking care of kids can keep you awake at night.
Description
Blog post with tips on improving sleep habits
Citation
Ashschlager, Jenna. (2021, June 8). Do You Get Enough Sleep ? Ten Tips to Improve Sleep Habits.
Rights/Terms
Attribution-NonCommercial-NoDerivatives 4.0 International
The following license files are associated with this item:
Except where otherwise noted, this item's license is described as Attribution-NonCommercial-NoDerivatives 4.0 International