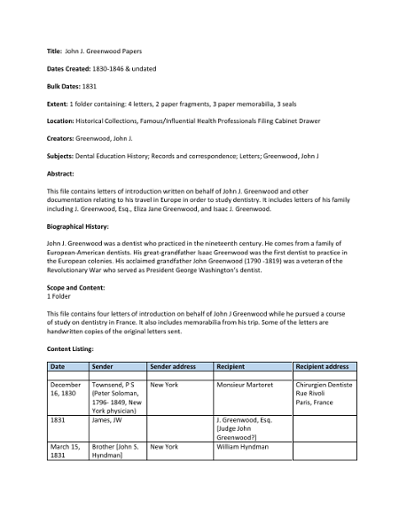 Name:
Greenwood finding aid.pdf
Size:
98.73Kb
Format:
PDF
Description:
PDF of Greenwood Papers Finding Aid
Abstract
This document is the finidng aid for the John J. Greenwood Papers. The papers contain letters of introduction written on behalf of John J. Greenwood and other documentation relating to his travel in Europe in order to study dentistry. It includes letters of his family including J. Greenwood, Esq., Eliza Jane Greenwood, and Isaac J. Greenwood.
Description
The John J. Greenwood papers is a small collection housed in the vertical files of Historical Collections. It is one file folder and contains letters of introduction for John J. Greenwood as well as ephemeral pieces from his time in Europe. The collection dates from 1830 to 1846. The collection has been digitized and is completely available online through the "see at" link in this record.
Rights/Terms
Attribution-NonCommercial-ShareAlike 4.0 International
Collections
The following license files are associated with this item:
Except where otherwise noted, this item's license is described as Attribution-NonCommercial-ShareAlike 4.0 International