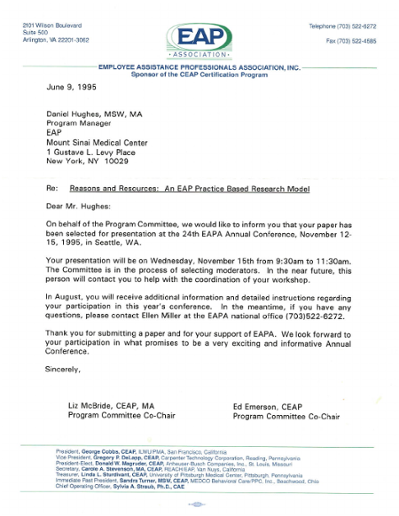 Name:
Hughes. Seattle. 1995.pdf
Size:
384.0Kb
Format:
PDF
Description:
Paper for presentation at a ...
Abstract
This is a paper that was written for the 1995 International Employee Assistance Annual Conference. The paper presents the model and history that the Mount Sinai Medical Center's EAP developed. It was a practice based research model that complemented its package of core organizational and employee services. The model represented an expanded role for EAP practice within the context of an academic care center. Practice based research integrated the provision of core EAP services with established methods of scientific inquiry. The paper describes the Cyclical Model of Practice Based Research as well as the three practice based research projects that Mt Sinai was involved with at the time: 1) assessment and intervention techniques with Boston University's Center on Work and Family; 2) project to provide long term counseling services to high risk clients and 3) community/workplace alliance for the prevention of drug and alcohol abuse. The paper concludes with suggestions about the direction of EAP services and the need for evidence based practice.
Description
paper for presentation at International Conference
Sponsors
Mount Sinai's EAP Program
Rights/Terms
Attribution-NonCommercial-NoDerivatives 4.0 International
The following license files are associated with this item:
Except where otherwise noted, this item's license is described as Attribution-NonCommercial-NoDerivatives 4.0 International