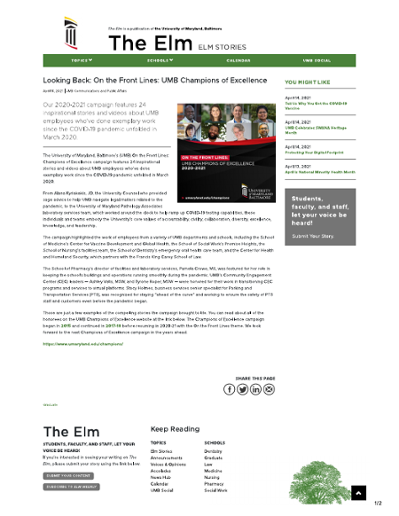 Name:
LookingBack_04_14_2021.pdf
Size:
422.9Kb
Format:
PDF
Description:
PDF of overview of the 2020-21 ...
Description
The University of Maryland, Baltimore's (UMB) On the Front Lines: Champions of Excellence 2020-2021 campaign features 24 inspirational stories and videos about UMB employees who've done exemplary work since the COVID-19 pandemic unfolded in March 2020. This article reflects on those individuals and teams who were honored.
The Champions of Excellence campaign is a multiyear branding campaign at the University of Maryland, Baltimore (UMB) in which we highlight individuals and teams that exemplify extraordinary accomplishment and represent excellence at the University.
In the 2020 campaign-continuing into 2021-On the Front Lines: UMB Champions of Excellence, we are featuring UMB's essential employees, the front-line workers who have continued to fulfill their extraordinary commitment to the University by keeping our important functions and operations running during the COVID-19 pandemic.
Series/Report No.
2021 UMB Champions of Excellence
2020 UMB Champions of Excellence
Rights/Terms
Attribution-NonCommercial-ShareAlike 4.0 International
Collections
The following license files are associated with this item:
Except where otherwise noted, this item's license is described as Attribution-NonCommercial-ShareAlike 4.0 International