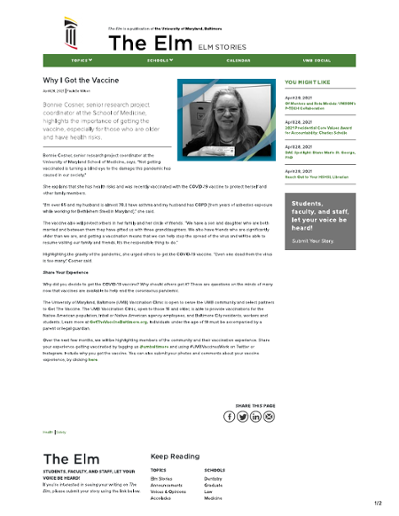 Name:
Vaccine_Cosner_04_28_2021.pdf
Size:
370.7Kb
Format:
PDF
Description:
PDF of Cosner Vaccine Story
Other Titles
Tell Us Why You Got the COVID-19 Vaccine: Bonnie Cosner
Description
The Elm, UMB's Campus newsletter, highlighted UMB members' impetus for getting the COVID-19 vaccine in a series of stories called, "Tell us why you got the COVID-19 Vaccine." The stories highlight the experience of these campus members as well as their reasoning for getting the inoculation.
Bonnie Cosner, senior research project coordinator at the School of Medicine, highlights the importance of getting the vaccine, especially for those who are older and have health risks.
Series/Report No.
Tell Us Why You Got the COVID-19 Vaccine
Rights/Terms
Attribution-NonCommercial-ShareAlike 4.0 International
Collections
The following license files are associated with this item:
Except where otherwise noted, this item's license is described as Attribution-NonCommercial-ShareAlike 4.0 International