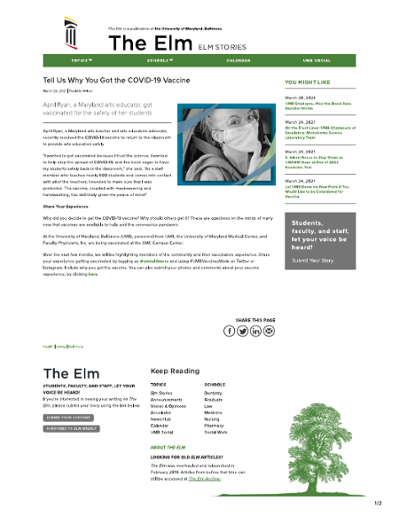 Name:
Vaccine_Ryan_03_24_2021.pdf
Size:
325.3Kb
Format:
PDF
Description:
PDF of April Ryan Vaccine Story
Description
April Ryan, a Maryland arts educator, got vaccinated for the safety of her students.
The Elm, UMB's Campus newsletter, highlighted UMB member's impetus for getting the COVID-19 vaccine in a series of stories called, "Tell us why you got the COVID-19 Vaccine." The stories highlight the experience of these campus members as well as their reasoning for getting the inoculation.
Series/Report No.
Tell Us Why You Got the COVID-19 Vaccine
Rights/Terms
Attribution-NonCommercial-NoDerivatives 4.0 International
Collections
The following license files are associated with this item:
Except where otherwise noted, this item's license is described as Attribution-NonCommercial-NoDerivatives 4.0 International