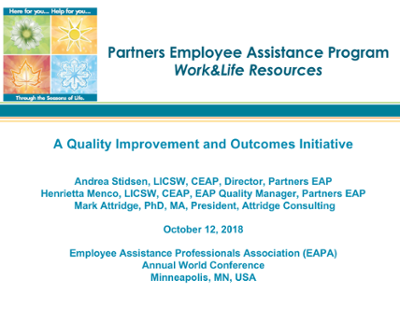 Name:
EAPA 2018 Stidsen Menco Attridge ...
Size:
6.714Mb
Format:
PDF
Description:
48 slides
Table of Contents
1) Introduction. 2) Partners HealthCare and Partners EAP. 3) Continuous Quality Improvement. 4) Implementing Evidence-Based Practices Using Validated Screening Tools. 5) Results – SBIRT & WOS. 6) Lessons Learned. 7) Appendix (measurement tools)
Description
Conference presentation slides.
Citation
Stidsen, A., Menco, H., & Attridge, M. (2018, October). A quality improvement and outcomes initiative. Presented the annual world conference of the Employee Assistance Professionals Association, Minneapolis, MN.