INDUSTRIAL RELATIONS ACT 1990 (CODE OF PRACTICE FOR EMPLOYERS AND EMPLOYEES ON THE PREVENTION AND RESOLUTION OF BULLYING AT WORK) ORDER 2020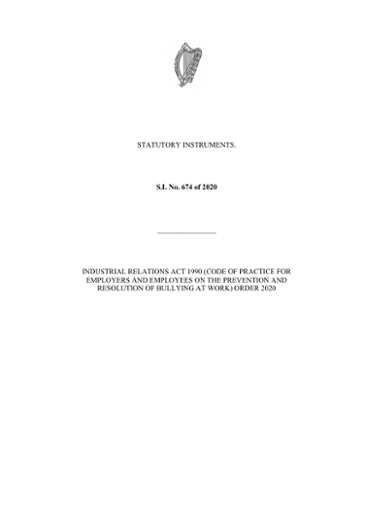 Name:
New Code of Practice on Workplace ...
Size:
916.6Kb
Format:
PDF
Description:
Government Document
Abstract
Foreword: The Health and Safety Authority (HSA) and the Workplace Relations Commission (WRC) were requested by the Minister of State for Trade, Employment, Business, EU Digital Single Market and Data Protection to review their respective Codes of Practice on bullying in the workplace and to develop a single Joint Code, encompassing both organisations' remit and responsibilities in this area. This Code of Practice comes into effect on 23 December 2020 and from that date it replaces the Code of Practice entitled "Code of Practice for Employers and Employees on the Prevention and Resolution of Bullying at Work" which was issued by the HSA in March 2007 in accordance with the Safety, Health and Welfare at Work Act 2005 and the "Code of Practice Detailing Procedures for Addressing Bullying in the Workplace" issued by the then Labour Relations Commission LRC (now WRC) in 2002 in accordance with section 42 of the Industrial Relations Act 1990. Notice of issue of this Code of Practice, and the withdrawal of both Codes of Practice, is published in the Iris Oifigiúil.
Table of Contents
Status and Scope of the Code under Workplace Relations Legislation 5 ; 1. Introduction 6 ; 1.1 Consultation 6 ; 1.2 Aim 6 ; 2. What are Harassment and Bullying at Work? 7 ; 2.1 What is Harassment at Work? 7 ; 2.2 What is Bullying at Work? 8 ; 2.3 How does Bullying manifest itself within Workplaces? 8 ; 2.4 Who Bullies at Work? 9 ; 2.5 Why deal with Bullying at Work? 9 ; 2.6 What is not Bullying at Work? 10 ; 2.7 Who is involved in Bullying at Work? 11 ; 2.8 What are the effects of Bullying at Work? 12 ; 3. Management of Bullying at Work 13 ; 3.1 Prevention 13 ; 3.2 Preventative Measures/Actions 14 ; 3.3 Contact Person Role 16 ; 4. Intervention in Workplace Bullying 17 ; 4.2 Formal Process 22 ; 5. Conclusion of Formal Process and Follow Up 26 ; 5.1 If Internal Procedures Do Not Resolve a Bullying Complaint 26 ; 5.2 Communications of Outcomes 26 ; 6.1 Role of the HAS 28 ; 6.2 Role of the WRC 30 ; 6.3 Role of HSA & WRC in the Prevention of Workplace Bullying 31
Description
Irish Government Document addressing the issue of bullying in the workplace.
Rights/Terms
Attribution-NonCommercial-NoDerivatives 4.0 International
The following license files are associated with this item:
Except where otherwise noted, this item's license is described as Attribution-NonCommercial-NoDerivatives 4.0 International