Common Holiday Spices, Flavors, and Nuts and their Traditional Medicinal Qualities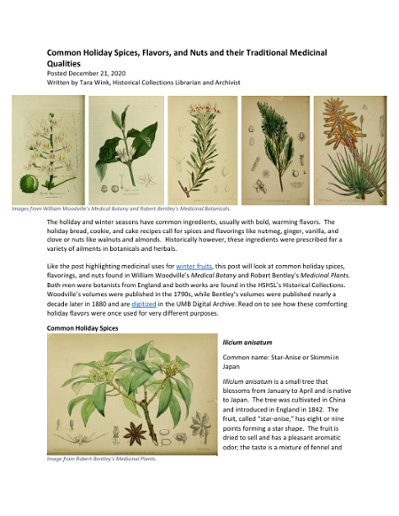 Name:
Holiday Flavors 12_2020.pdf
Size:
1.032Mb
Format:
PDF
Description:
PDF of Holiday Flavors Blog Post
Abstract
The holiday and winter seasons have common ingredients, usually with bold, warming flavors. The holiday bread, cookie, and cake recipes call for spices and flavorings like nutmeg, ginger, vanilla, and clove or nuts like walnuts and almonds. Historically however, these ingredients were prescribed for a variety of ailments in botanicals and herbals. This post highlights a few of these ingredients from botanicals in the Health Sciences and Human Services Library's Historical Collections Department.
Description
Content written for the HS/HSL News, a blog for the Health Sciences and Human Services Library at the University of Maryland, Baltimore (UMB).
Rights/Terms
Attribution-NonCommercial-ShareAlike 4.0 International
Collections
The following license files are associated with this item:
Except where otherwise noted, this item's license is described as Attribution-NonCommercial-ShareAlike 4.0 International