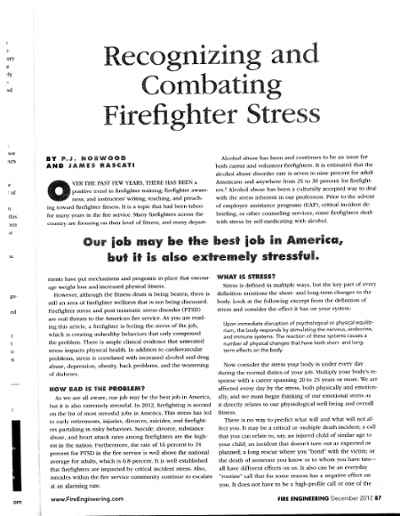 Name:
Recognizing and Combating ...
Size:
766.1Kb
Format:
PDF
Description:
Newsletter article
Publisher
FireEngineering.com
Type
Article
Newsletter/Magazine
Abstract
Over the past few years there has been a positive trends in firefighter training: firefighter awareness; and instructors' writing, teaching and preaching toward firefighter fitness. It is a topic that had been taboo for many years in the fire service. Many firefighters across the country are focusing on their level of fitness , and many departments have put mechanisms and programs in place that encourage weight loss and increased physical fitness. However, although the fitness drum is being beaten, there is still an area of firefighter wellness that is not being discussed. Firefighter stress and post traumatic stress disorder ( PTSD) are real threats to the American fire service.
Description
Newsletter article
Citation
Norwood, P. and Rascati, J. ( 2012). Recognizing and combating firefighter stress. Fire Engineering. December, p.87-89.
Rights/Terms
Attribution-NonCommercial-NoDerivatives 4.0 International
The following license files are associated with this item:
Except where otherwise noted, this item's license is described as Attribution-NonCommercial-NoDerivatives 4.0 International